News Service | Filtered by Primary News
News Feed
Bangkok Cobis Primary Games 2019
The following students, along with Mr Simmons, Miss Zarraga and Mrs Parkinson travelled to Bangkok, Thailand to take part in the Primary Cobis Games 2019;
Sara Zorrilla Iturriagagoitia
During the competition the students competed magnificently against 12 other schools from 8 different countries. Over 3 days, they took part in swimming, athletics and football. These all took place in the amazing facilities of Brighton College, Bangkok.
As well as the competition the students enjoyed soaking in the Thai culture through trips to the Wat Poh temples, Limpini Park, an evening cruise down the river and sampling plenty of Thai food. It was also great to see the children mingling, making friends and socialising with students from other schools.
After each day of competition the points were added up and teams were allocated their points. We managed to finish an amazing 4th place, winning the 2nd place in the football competition.
Noticable achievements were;
Daniella Gomez; Silver medal Girls 75m

Nicola Devia; Bronze Medal Boys 800m

Nicola Devia; Boys 50m Back Stroke

Ines Garcia Leon;Bronze Vortex Javelin Throw

Pablo Garcia, Nicola Devia, Rodrigo Munez, Adam Ibrahim Bronze medals 4x100m relay

Mara Hernandez, Carla Habermehl, Daniela Gomez, Paula Leon; Bronze medals 4x100m relay

Both boys and Girls Teams; Bronze medals in the football competition.
Their attitude, enthusiasm, sportsmanship and behaviour was absolutely outstanding. It was a true pleasure to both coach this team before the tournament and then help and watch them put in remarkable performances in Bangkok. I could not be prouder of their achievements; they have represented Kings's College Soto in the best possible way. Without their commitment and team work this success would not have been possible.
Year 6C Class Assembly
On Tuesday 19th of March, King's College Soto 6C students entertained parents and teachers alike with their eye opening play about the environment. In a theatrical way, students showed their parents about the detrimental effects of some human waste management habits on the environment. The overall lesson was that everyone must look after our environment in order to leave a clean, safe planet for their children and grandchildren.
Healthier Meals. Why?
On Friday, the Primary School Council and our new Primary Wellbeing Ambassadors held a very successful meeting with Álvaro López (Nexalia Services Manager) and Marina Escudero (Nutritionist) to discuss the recent changes in the school menu. The children first enquired about how menus where chosen, Álvaro and Marina explained how they were advised by AECOSAN (Agencia Española de Consumo, Seguridad Alimentaria y Nutrición) about ingredients they were allowed to use and how certain ways of preparing foods were no longer acceptable. The children learnt how there was a weekly sugar limit the school had to adhere to, however, Álvaro said Nexalia would consider adding some 'treats' aswell as consider celebrating some international food days.
The children asked why some of their favourite foods like chips, croquetas and fish fingers were no longer on the menu and it was explained how the school had decided to limit the amount of fried and pre-cooked products, as the official guidance recommends. Again, Álvaro and Marina were very open to the children's suggestions and agreed to look in to other ways of preparing some of their favourite foods, whilst maintaining a high quality product.
Furthermore, our students asked about the possibility of serving some of the food with their corresponding sauces separately, again, they would consider this for certain meals. Álvaro and Marina explained how each meal had to be balanced and adhere to the guidelines laid out by AECOSAN, however they said they would discuss the children's suggestions about second helpings and having more control in the quantities of each plate they received. It was a very positive and informative meeting - the children and accompanying teachers learnt a great deal about how and why different foods were served and the Primary School Council and our Primary Wellbeing Ambassadors felt they had been listened to and were very happy with the answers to their proposals about how to improve the dining experience at school.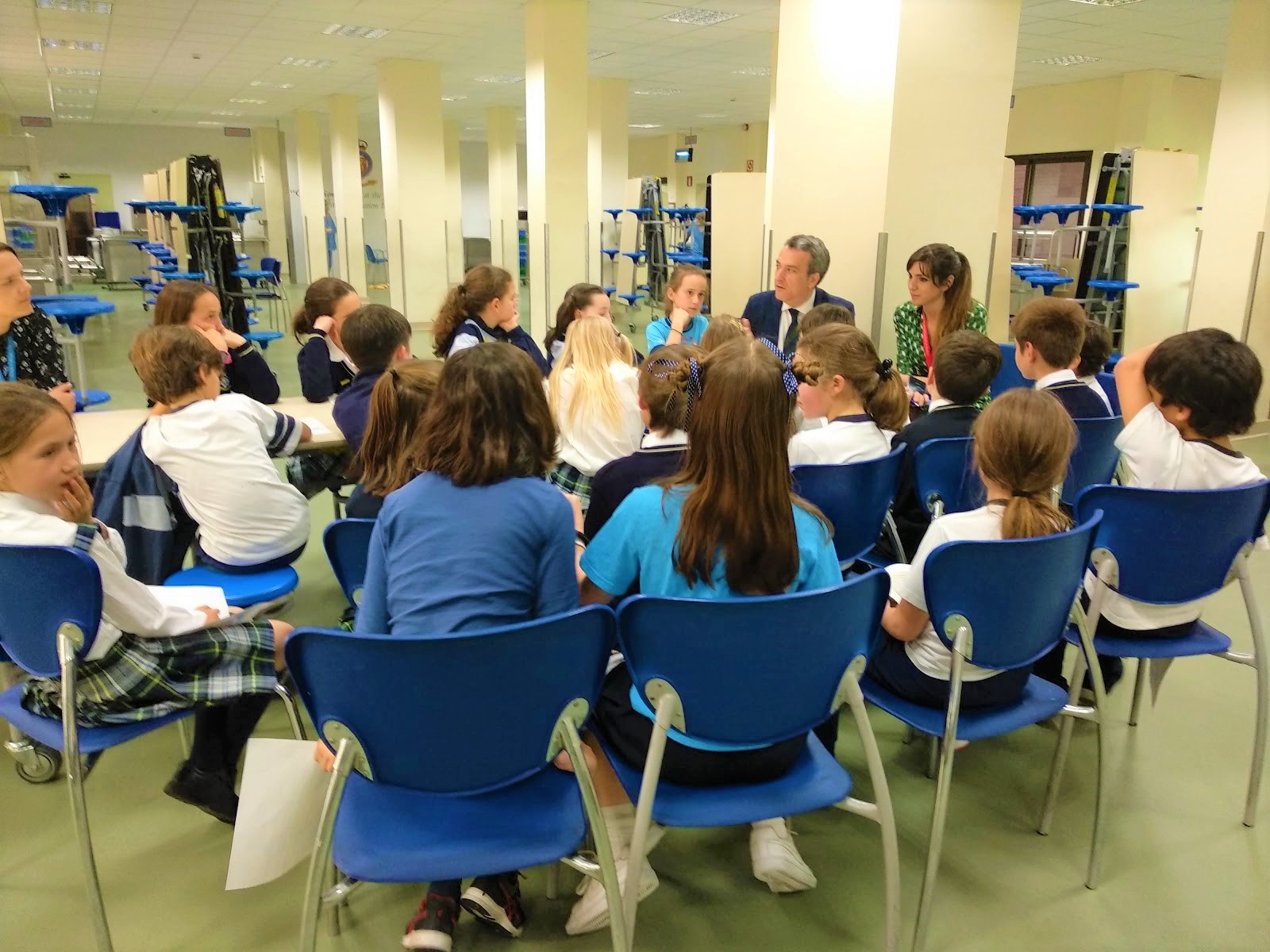 Reducing the Use of Plastic in Primary
On the 12th of March, Pablo Paramo returned to King's College Soto to talk to our students about waste management. His compelling visit to Reception in January focused primarily on recycling but this time he educated our Year 6 students on the detrimental effects of the use plastic. Plastic is an incredibly useful material, but it is also made from toxic compounds known to cause illness, and because it is meant for durability, it is not biodegradable. The excessive use of plastic is killing animals; causing air, land and sea pollution as well as being very expensive to clean up. Mr. Paramo provided our shocked students with practical solutions to a more sustainable use of plastic like shopping with reusable bags, getting rid of plastic bottles and getting involved in plastic clean-ups among many others. We would like to thank Mr. Paramo for coming in again and presenting this crucial information in a student engaging way. One of King's College's core values is respect, and this extends to respect for our environment and nature, so it is imperative we provide our students with the resources and knowledge to look after our planet!
Water Polo with the Real Federación de Natación Española
On the 12th of March a representative from the Real Federación de Natación Española visited King's College Soto to educate our Year 5 students about Water Polo. The morning started with a talk about Water Polo technical theory, focusing particularly on how to hold and swim with the ball, as well as positioning and shooting. Then, like ducks in water, it was time for our Year 5s to take a plunge and carry out some drills. Students swam back and forth, perfecting their swimming with the ball, passing and shooting. The morning ended with a competitive match that drew 2-2 with a goal in the very final minute! King's College Soto would like to thank the Real Federación de Natación Española for a very enjoyable and educational morning.
King's Celebrates Enrichment Week
Last week King's College Soto celebrated Enrichment Week. The purpose of this week was for our students to explore different countries and cultures. From Pre-Nursery to Year 1, each class selected a country to study in depth, particularly focusing on their individual environments and how they differed to Spain.
World Week Activities
World Week Activities included a full range of colourful and multicultural activities. Among many other things, Year 3 made Zambian animal masks and sketched Icelandic Northern Lights. Year 4 painted Thai Elephant frames, made Greek Pottery and Chinese Blossom Trees. Year 6 made Brazilian collages, Welsh clay castles and learnt the Russian alphabet. King's College Soto made the most of its ethnically diverse alumni with visits from parents from different nations, who talked about their native traditions and customs. Our students were captivated by the cultures they studied, sparking a desire to further study their languages and visit these nations in the future.
World Market
All this learning about foreign lands and their cuisine, music, fashion, traditions and beliefs were put on display at the World Market. The whole of Primary got together on a sunny Thursday morning to visit the student-designed stands of countries such as Mexico, New Zealand, Brazil, Russia, China, Australia, Japan and Greece among many others. Stands displayed the research and artworks our students had undertaken earlier in the week and each nation had students representatives giving fun facts and detailed explanations. Spain was not underrepresented however, with long lines of salivating children awaiting the delicious Tortilla prepared by the Spanish staff!
Alongside the World Market there was a vibrant festival taking place! Each Year Group had prepared performances relating to the country they had investigated. Teachers and alumni alike were thrilled by renditions of traditional dances from all over the world. The show began with Year 3 performing the Maori Haka, the miniature students roared loudly as they stomped their feet on the concrete. This was followed by an energetic Brazilian Samba, Year 6 students hopped and bounced in unison to the heartracing Brazilian beat. Then, Reception were at their cutest with a Princess Waltz which left the crowd crying sugary awws. The Northern Lights show by Year 2 involved students gracefully dancing and flaunting their colourful ribbons to emulate the effect of the northern lights. The headliner of the festival may have been Mrs. Parkinson however, who took centre stage with Mr. Jones, Mr. Simmons and a crowd of students, with a synchronized execution of the Cha Cha Slide! The closing acts for the World Market Festival were African drums by the music club and Spanish Sevillanas with the Spanish Teachers. The wonderful atmosphere of this event left students wanting more and set the stage for Friday's event: World Vision...
King's Soto Celebrates Enrichment Week
Let the 50th Anniversary Celebrations Begin
On Thursday the 7th of February King's College Soto commemorated their 50 Year Anniversary. The landmark event began with a welcome from our Headmaster Matthew Taylor and was followed by an audience address from our Chairman Sir Roger Fry. He spoke nostalgically about how, when he founded the school in 1969, he had not expected the exponential growth King's Group has experienced, with a roll of over 8,000 students across the globe; ten British international schools and seven academy schools in the UK. Subsequently, Matthew Taylor presented the 50th Anniversary Commemorative Book and Sir Roger began the ceremonial cutting of the anniversary cake; an enormous cake where two flags, the British and Spanish, united in a harmonious icing matrimony. Murmurs of anticipation could be heard as soon as the knife pierced the first layer of the cake.
After speeches from Maria F. and Miguel A., representing the Secondary students, it was time for the Primary Student Council representatives Raquel S. and Rafael D. to unveil the contents of the infamous Time Capsule. Rafa and Raquel eloquently explained their role in the School Council and how this year they had already played a part in supporting the school's charity events. Despite all these fantastic student-led initiatives, Raquel and Rafa were most excited about the Time Capsule.
During the planning stages of the grand project, the Primary School Council wanted everyone to feel like they were part of the launch, so they made a PowerPoint for everyone to share ideas and then the Primary School Council chose the best ones. Bubbling with enthusiasm, the representatives went to Mr. Taylor - "our Headmaster was very impressed with the imaginative ideas." Mr. Taylor then presented the shiny, silver Time Capsule for students to inspect. However, there was a small problem… it was a tiny, shiny, silver Time Capsule. How were all the chosen items going to fit? They soon came up with a solution: to buy a treasure chest with a lock and place the key in the Time Capsule with a riddle to solve for an added spice of mystery.
Everything in the Time Capsule and Chest was carefully chosen to reflect school life as we know it and predictions as to what the future has in store for King's College students. The Secondary School Council created a video tour of the school which was saved on a USB stick with an attached QR code. So that the children in 2044 could understand the life of a 2019 members from all walks of the school (students, parents, teachers, Nexalia, Administration etc.) buried letters describing life today. Year 5, with their Rainforest Topic in mind, made a set of Top Trump cards of animals in danger of extinction. Raquel passionately probed the audience, "Will these animals still exist in 25 years or will they be history, like the dinosaurs?" The audience replied with silence. Conversely, Year 6 dreamed of a future with initiative and excellence, both values taught at King's, burying cards with potential inventions the future may bring. "Only the future will tell," declared Rafa.
Students wanted to reflect the current school culture with items that make the King's experience one of a kind. For example, our signature tie was buried as well as badges showing varying positions of student responsibility, Mr. Stearman even donated a school trophy. "Will King's College still be performing so well in Sport?" cheekily probed Rafa, preemptively challenging future generations. The Primary School Council thought it was important for 2044 students to understand what entertained the children of today and therefore included things to touch and play with. The chest included toys typically found in our break times like beyblades, spinners, yoyos, cards and chess sets. Our students predict there will be radical change even in the most basic necessities of modern society. Thus, Euro notes and coins were also buried. "We doubt physical money will be anywhere except a museum in the future!" In addition, a model of a typical car of today was buried in the chest. "We know electric cars are already taking over...but will Chitty Chitty Bang Bang, flying cars, be coming in?" joked Raquel to a crowd of wistful giggles.
Finally, School Council Representatives wanted to capture the present moment, particularly all the fantastic projects King's Soto are taking part in. Students buried a drawing of the school entrance, a school Newspaper, a King's College Yearbook full of photos showcasing the many events we have at our school, as well as a Class Book to reflect the value we place on PSHE and wellbeing.
"Will we be invited for the grand opening? We hope so. Will our treasure survive the years? We hope so," confessed Raquel. "Only the future will tell!" As Sir Roger ceremoniously buried the capsule he was met with a round of applause by a delighted crowd of smiling teachers, students and parents - proud to be part of such a historical event for the school and certainly looking forward to a piece of that cake!
King's Got Talent
Last week at King's College Soto, Years 4, 5 and 6 hosted auditions for World Vision - our incredibly popular talent show. Students performed a wide range of acts like magic, singing, bongos, piano and dance routines. Some of the acts had been rehearsing for months! Teachers were amazed by the level of talent among our alumni and it was a tough decision to select an act from each House, in each year group, that will perform at the World Vision show at the end of Enrichment Week! Well done to all the students who took part and good luck to the finalists!
Reception Celebrate Chinese New Year
For the past few weeks at King's College Soto, Reception has been learning about the Chinese New Year. To explore this fascinating culture, students had a visit from some of our parents. Mrs. Duan and Mr. Xu Zheng educated Reception students on how the Chinese New Year is celebrated. Captivated students learnt that each Chinese New Year starts an animal´s new Zodiac Year and that 2019 is the Year of the Pig! Furthermore, students learnt that the majority of the decorations for this 15 day celebration are red, as the colour is said to bring good luck, happiness and prosperity.
Then it was time for Reception to take part and celebrate! Students ate noodles, made dǒulìs (Chinese hats) practised Chinese calligraphy and greeted each other with enthusiastic nĭ hăo´s. The festivities culminated with a large parade, students had made a large dragon, so they carried the red, fiery beast and passionately chanted gōng xǐ gong xǐ (The Chinese New Year Song)! At King's College Soto one of our Core Values is Open-mindedness, a willingness to be receptive to new ideas without prejudice. Learning about The Chinese New Year promotes open-mindedness, expands our students' worldview in a fun, interactive way and further integrates some of our international students by exploring and celebrating their native culture.
Story Telling Week
This week at King's College Soto it was Storytelling Week. Our Theatre and Drama Club took this opportunity to perform a series of fairy tales and legends across Primary. EYFS and Reception were entranced by a remix of classic fairy tales like 'The Three Pigs' and 'Tinkerbell', starring our very own TinkerBell, Mrs. Parfitt from 3P! Meanwhile, Key Stage 1 and 2 all enjoyed a performance of the ancient English folklore "Dick Whittington and His Cat": the tale of a stratospherical rise from a poverty-stricken childhood with a fortune made through the sale of a cat to a rat-infested country. We would like to congratulate and thank the Drama Club and Mrs. Parfitt for their outstanding performances throughout the week.
MagnaHigh Medals
Last month our students took part in the COBIS Mangahigh Mathematics Challenge. Competing against all of the 257 COBIS schools, this competition was designed to engage students with Maths through a games-based learning approach. Combining Technology and Mathematics, students completed activities, to score individual points, which in turn contributed to their school's tally. King's College Soto came 10th overall and many of our students won medals for their Maths skills.
Granja de Los Cuentos
Last Friday, our Year 3 King's College Soto students visited La Granja de los Cuentos. The purpose of the trip was for students to spend the day in nature, learning about plants, animals and ecosystems.
Our students played with the ponies and horses at the farm and even got to interact with the most dangerous animal on the farm, the goat! Students marvelled at the orchards, abundant with fauna and vegetation from all over the world. The day finished with a special performance about the beauty of nature which left some kids astounded and others slightly terrified of the bears in the show!
At King's College Soto one of the values we work hard to achieve is wellbeing, both for ourselves and those around us. Creating an appreciation for nature in our students is one way to promote future generations of environmentally friendly adults and also helps our students learn to enjoy the simple beauty and pleasure found in the natural world.
Growth Mindset Day
This month at King´s College Soto we celebrated Growth Mindset Day. On this day, we educated our students on the idea that intelligence can be developed rather than it being set in stone. The day was packed with lectures and activities promoting this groundbreaking ideology. A King's student can learn anything they want to because their effort and attitude determine everything.
Furthermore, the Growth Mindset is ingrained in our teaching ideology, particularly in the way King's teachers give feedback. By praising student effort and the strategies they used over their intelligence, we give students a template of behavior to follow.
Read more about the Growth Mindset here https://www.theguardian.com/…/research-every-teacher-should…
Spread the Warmth Initiative
It is on these cold winter days we are grateful students at King's College Soto are warm, happy and safe, but we must also consider those who are not as fortunate. As a result, our Secondary School Charity Committee have launched the Spread the Warmth initiative, which involves donating things that may keep a child warm this winter like blankets, coats, gloves, mittens and hats etc. All items will be taken by our school charity Bomberos Ayudan and distributed to the homeless, in the poorest parts of Madrid. A growing pile of blankets is located just outside the auditorium and we welcome donations until the 8th February.
A big thank you to the Secondary students who have launched the initiative this week in our Primary assemblies and, in advance, to all of our King's' families who choose to participate.
Spread the Warmth this winter!
Find out how Reception students are saving the planet…
Tuesday was a special day for Reception at King's College Soto. We had a visit from Pablo Paramó, a proud parent, as well as a representative from Saica Natur - a UK based sustainable recycling and waste management company, who inspired our Reception students to Reduce, Reuse and Recycle! Students discovered that we can make cars and even aeroplanes from recycled cans. Then, students had a go at recycling in their classroom & were given stickers to put on their bins at home. Respect is a core value at King's College, this includes respect for the environment. Creating a ´green´ perspective for our students by informing them about sustainability from the early stages of their education is paramount to our mission in building brighter futures for our alumni.
Tea Party
Student satisfaction is our main goal at Kings. This week at King´s College Soto we have been holding meetings with classroom representatives from each year group in an effort to acknowledge student perspective. Students met with Mrs. Parkinson, Mrs. Banks and Ms. Silburn (and some tasty treats) to give feedback on how we could improve our service!