News Service | Filtered by Primary News
News Feed
Words and Wonder Week
Tuesday 23rd marked the beginning of King's Words and Wonder Week. This week is set out to promote the magic of storytelling and to encourage a culture of reading in our students, instilling in them this very important habit. Reading and being read to helps our students to expand vocabulary, improve memory, better their writing skills and increase concentration and focus.
The week began with Shakespeare Day, with special performances from our Teacher/ Story Teller Heather Parfitt who skillfully covered Shakespeare's Midsummer Night's Dream and Romeo and Juliet in an interactive, child-friendly way. Children enjoyed the hilarity of choosing our Romeo's and Juliet's from the audience, yet, by the end of the show they were on the edge of their seats, anxiously awaiting the climax of this cautionary tale. Monday also marked the beginning of Primary paired reading sessions.
In these sessions, Year 5 and 6 students went into Year 1 and 2 classes to read with the younger students. Upper Key Stage 2 students enjoyed the responsibility and pride that came with reading to the little ones, who very much enjoyed making new friends who could read the more complicated books.
Similarly, throughout the week, parents took centre stage in the first period of the day, reading their favourite fables and stories to their children in class. Students were visibly very excited (at times embarrassed) to have their mummies and daddies reading stories to curious classes. The sometimes comedic dynamic between the parents and their children when it came to presenting the story was entertaining for the students and teachers alike. Wednesday brought the much anticipated Readathon. Starting in Nursery and culminating in Year 6, students had to read as a class or individually for a total of 15 minutes and pass the readathon-baton to the next class with the objective of getting through every single class in Primary. Year 6 was splitting hairs but managed to complete their reading by the end of the day! The final word read brought a merry cheer and a thundering round of applause.
On Thursday, King's College Soto had the privilege of welcoming internationally renowned storyteller Andy Wright on our theatre stage. Our guest reader marvelled King's students with folk tales from around the world- rich in cultural background as well as abundant in dramatic hand gestures, onomatopoeia and dances. Andy's stories had students in hysterics while they learnt about the origin of New Zealand's 'fishhook' islands and in tears when they heard the story of Andy's traumatised veteran grandad (the one with the pale, oh so very pale legs). Our large theatre trembled when students stomped the ground, beat their chests and roared like lions in a Haka performed in unison to honour Andy's electric performance.
On the last day of the week, King's opened their gates to a flock of eccentric, creative costumes that soon flooded the playground in anticipation for the annual Fancy Dress parade. Teachers selected their favourite costumes to represent each class on the catwalk. Walking out to a playlist Kate Moss would have swept a catwalk with in the early 90s, Gangster Grannies, a Hungry Caterpillar, Cruella Deville, Soldiers, Princesses and even an 8 of Hearts strutted their stuff for rows and rows of children full of Wonder, a fitting end to a great Words and Wonder Week.
Murcia Games Champions
Earlier this month, some of our top athletes competed in the annual Murcia Games. Competing with other COBIS schools in basketball, football and athletics among other sports. King´s College Soto places 1st! Champions!
Year 4 Bake Sale
We had a wonderful day at our Bake Sale to raise funds for one of our flagship charities Porque Viven, who provide support and bring joy to children in palliative care. The children brought in hundreds of cakes of all different flavours, shapes and sizes. Their salesmanship and initiative paid off as they manage to raise €800 in just one day! Thank you to all the staff, parents and pupils who participated and added to such a great cause.
Translanguaging in Year 4
Translanguaging is a concept being practiced in Year 4 which celebrates multilingualism and sees things from the perspective of the student.
Translanguaging is a theoretical lens that offers a different view of bilingualism and multilingualism. The theory posits that rather than possessing two or more autonomous language systems, as has been traditionally thought, bilinguals, multilinguals, and indeed, all users of language, select and deploy particular features from a unitary linguistic repertoire to make meaning and to negotiate particular communicative contexts!
Walk for Water
In April, Year 6 and 7s went on the Walk4Water to raise awareness of the importance of clean water and adequate sanitation, moving towards a future in which all children have close access to safe drinking water, good sanitation and sufficient understanding about hygiene for healthy living. This year children raised: €8, 357 !!! All money raised will be donated to one of the school's 4 chosen charities, namely Nyumbani Village.
http://www.cloud9m.co.uk/…/nyumbani-a-home-for-hiv-infecte…/
The day began with lines of excited classes meeting in the King's College Soto porch. There was a timid distance between the two Year groups, who barely have face to face time on a daily basis. An added benefit of the walk is to have the Year 6 and 7s mingle and interact. Thereby, this makes the daunting entry into Secondary for the Year 6s less intimidating, as well as instilling a culture of empathy and care in Year 7 students.
Nonetheless, it was time for our students to start walking, the goal: to walk six kilometres with up to five litres of water in backpacks. This was King's best attempt to recreate the conditions some children, who have no access to clean drinking water, have to walk daily, in much hotter conditions, without shoes, food or comfortable backpacks to collect water - often dirty, infected water.
At around the two kilometre mark teachers on the walk began to hear some complaints, "My legs hurt! It's too hot! I'm hungry!" Teachers stopped the children to rest in the shade of a blooming olive tree. It seemed that the temperature had melted the ice between Year 6s and 7s, who begun to converse about the harsh conditions and to empathise with the African children. The next few kilometres were a real challenge for most of our students, who were sweating and panting by the time they got to the local park, which at this point, was greeted like a mirage by our exhausted students.
After a wonderful picnic and some time to play in the park, our Year 6s and 7s took part in some bonding activities. Mr. Crouch played a game of mingle with the students, which involved them jogging directionless until Mr. Crouch shouted out a question (e.g. How many languages do you speak? What football team do you support?). Students then had to find other students with the same answer and discuss these subjects. Subsequently, it was time for some reflection. Our teachers led groups of around twelve Year 6 and 7 students and together they chose a spot to reflect on what things they learnt from this experience and how the could do it differently. This was also a chance for the Year 6s to get to know some of the older students and vice versa.
Overall, it was a beautiful day for outdoor learning and the children got some perspective about challenges unprivileged children face.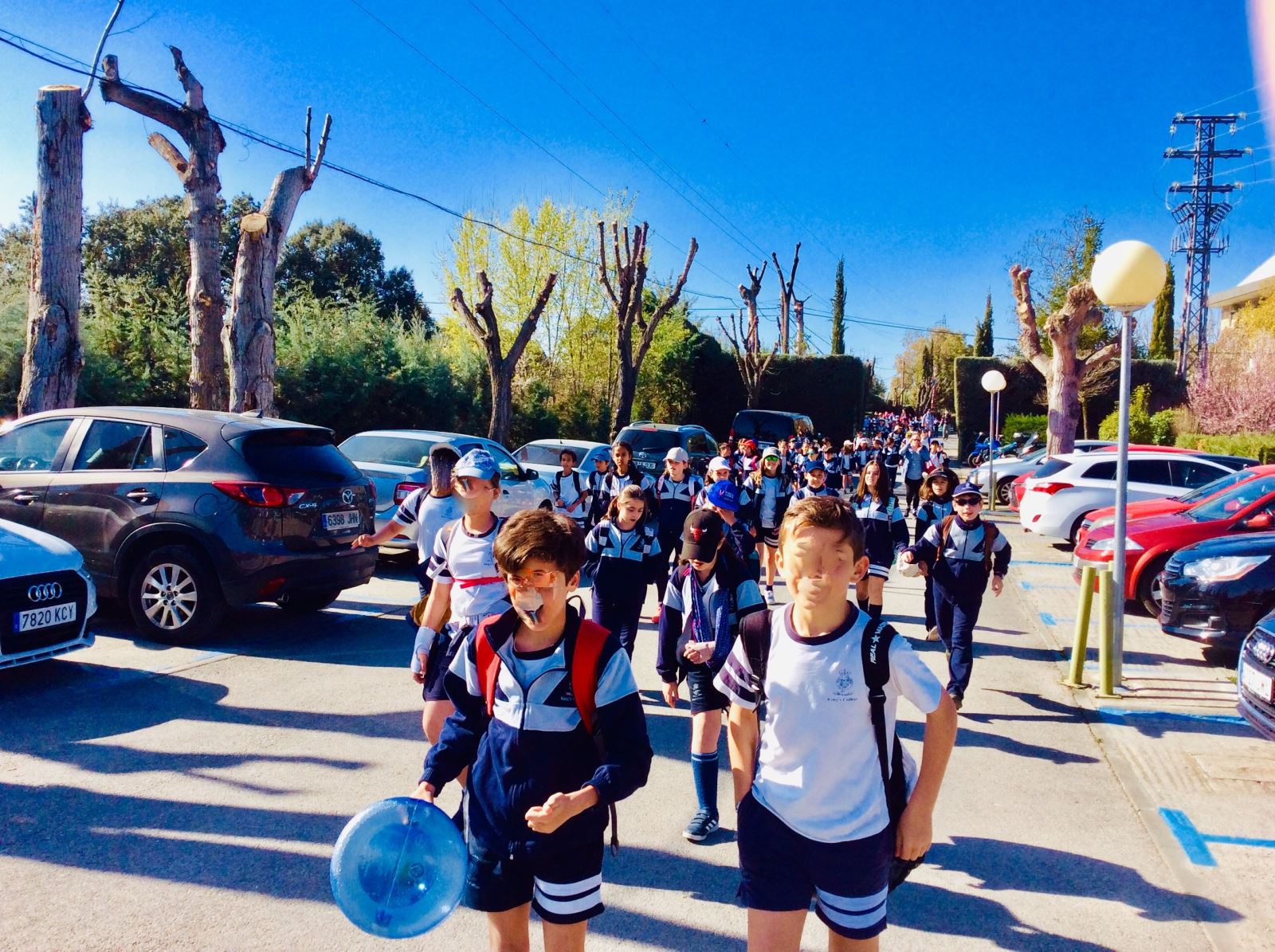 Outdoor Learning with Ms. Silburn
We love to see our classes involved in outdoor learning! We believe that children should connect with the natural environment and the benefits of learning outside. This involves observing the outdoor space and seeing things such as animals and plants. What is your favourite part of being outdoors?
Trading Seminar with Mr. Crouch
On the week of the 1st of April in King's College Soto, our newly appointed Deputy Head Mr. Crouch delivered a series of Trading seminars to our Key Stage 2 students. The seminars began with an activity which involved students having to design, cost, manufacture and sell products made out of paper. However, there was one caveat, some groups were given more materials to manufacture whilst others were granted a lonely blank sheet of paper. A hectic hour of negotiation, trade, persuasion and underhand tactics ensued. There were complaints regarding the fairness of the situation, much to the delight of Mr. Crouch, who had predicted this conclusion and closely watched students showing signs of resilience.
In the final minute of trade, our Movement Room now resembled a Wall Street Trading floor. The hustle and bustle was stopped with a signal, and Mr. Crouch gathered the expectant students around him. Mr. Crouch discussed tactics he had seen and pointed out some opportunities that had been lost. Yet, the overarching question was whether all this was fair (an important requirement in most things for children). Mr. Crouch explained that in international trade, some countries dispose of vast resources and wealth whereas others have to operate with poverty, lack of education and technology. Our Deputy Head covered things like global aid, international loans and the positive effects of migration and immigration when it relates to the influx of talent and technology in host countries. Students felt grateful to to be habitants in a First World country and greater understood the struggles poor countries face. Perhaps some of our students will choose to be leaders in an international context. At King's College Soto, some of our core values are initiative and collaboration. As a school we aim to teach our students these using practical, involved and engaging methods like Mr. Crouch's Trading Seminars.
Bangkok Cobis Primary Games 2019
The following students, along with Mr Simmons, Miss Zarraga and Mrs Parkinson travelled to Bangkok, Thailand to take part in the Primary Cobis Games 2019;
Sara Zorrilla Iturriagagoitia
During the competition the students competed magnificently against 12 other schools from 8 different countries. Over 3 days, they took part in swimming, athletics and football. These all took place in the amazing facilities of Brighton College, Bangkok.
As well as the competition the students enjoyed soaking in the Thai culture through trips to the Wat Poh temples, Limpini Park, an evening cruise down the river and sampling plenty of Thai food. It was also great to see the children mingling, making friends and socialising with students from other schools.
After each day of competition the points were added up and teams were allocated their points. We managed to finish an amazing 4th place, winning the 2nd place in the football competition.
Noticable achievements were;
Daniella Gomez; Silver medal Girls 75m

Nicola Devia; Bronze Medal Boys 800m

Nicola Devia; Boys 50m Back Stroke

Ines Garcia Leon;Bronze Vortex Javelin Throw

Pablo Garcia, Nicola Devia, Rodrigo Munez, Adam Ibrahim Bronze medals 4x100m relay

Mara Hernandez, Carla Habermehl, Daniela Gomez, Paula Leon; Bronze medals 4x100m relay

Both boys and Girls Teams; Bronze medals in the football competition.
Their attitude, enthusiasm, sportsmanship and behaviour was absolutely outstanding. It was a true pleasure to both coach this team before the tournament and then help and watch them put in remarkable performances in Bangkok. I could not be prouder of their achievements; they have represented Kings's College Soto in the best possible way. Without their commitment and team work this success would not have been possible.
Year 6C Class Assembly
On Tuesday 19th of March, King's College Soto 6C students entertained parents and teachers alike with their eye opening play about the environment. In a theatrical way, students showed their parents about the detrimental effects of some human waste management habits on the environment. The overall lesson was that everyone must look after our environment in order to leave a clean, safe planet for their children and grandchildren.
Healthier Meals. Why?
On Friday, the Primary School Council and our new Primary Wellbeing Ambassadors held a very successful meeting with Álvaro López (Nexalia Services Manager) and Marina Escudero (Nutritionist) to discuss the recent changes in the school menu. The children first enquired about how menus where chosen, Álvaro and Marina explained how they were advised by AECOSAN (Agencia Española de Consumo, Seguridad Alimentaria y Nutrición) about ingredients they were allowed to use and how certain ways of preparing foods were no longer acceptable. The children learnt how there was a weekly sugar limit the school had to adhere to, however, Álvaro said Nexalia would consider adding some 'treats' aswell as consider celebrating some international food days.
The children asked why some of their favourite foods like chips, croquetas and fish fingers were no longer on the menu and it was explained how the school had decided to limit the amount of fried and pre-cooked products, as the official guidance recommends. Again, Álvaro and Marina were very open to the children's suggestions and agreed to look in to other ways of preparing some of their favourite foods, whilst maintaining a high quality product.
Furthermore, our students asked about the possibility of serving some of the food with their corresponding sauces separately, again, they would consider this for certain meals. Álvaro and Marina explained how each meal had to be balanced and adhere to the guidelines laid out by AECOSAN, however they said they would discuss the children's suggestions about second helpings and having more control in the quantities of each plate they received. It was a very positive and informative meeting - the children and accompanying teachers learnt a great deal about how and why different foods were served and the Primary School Council and our Primary Wellbeing Ambassadors felt they had been listened to and were very happy with the answers to their proposals about how to improve the dining experience at school.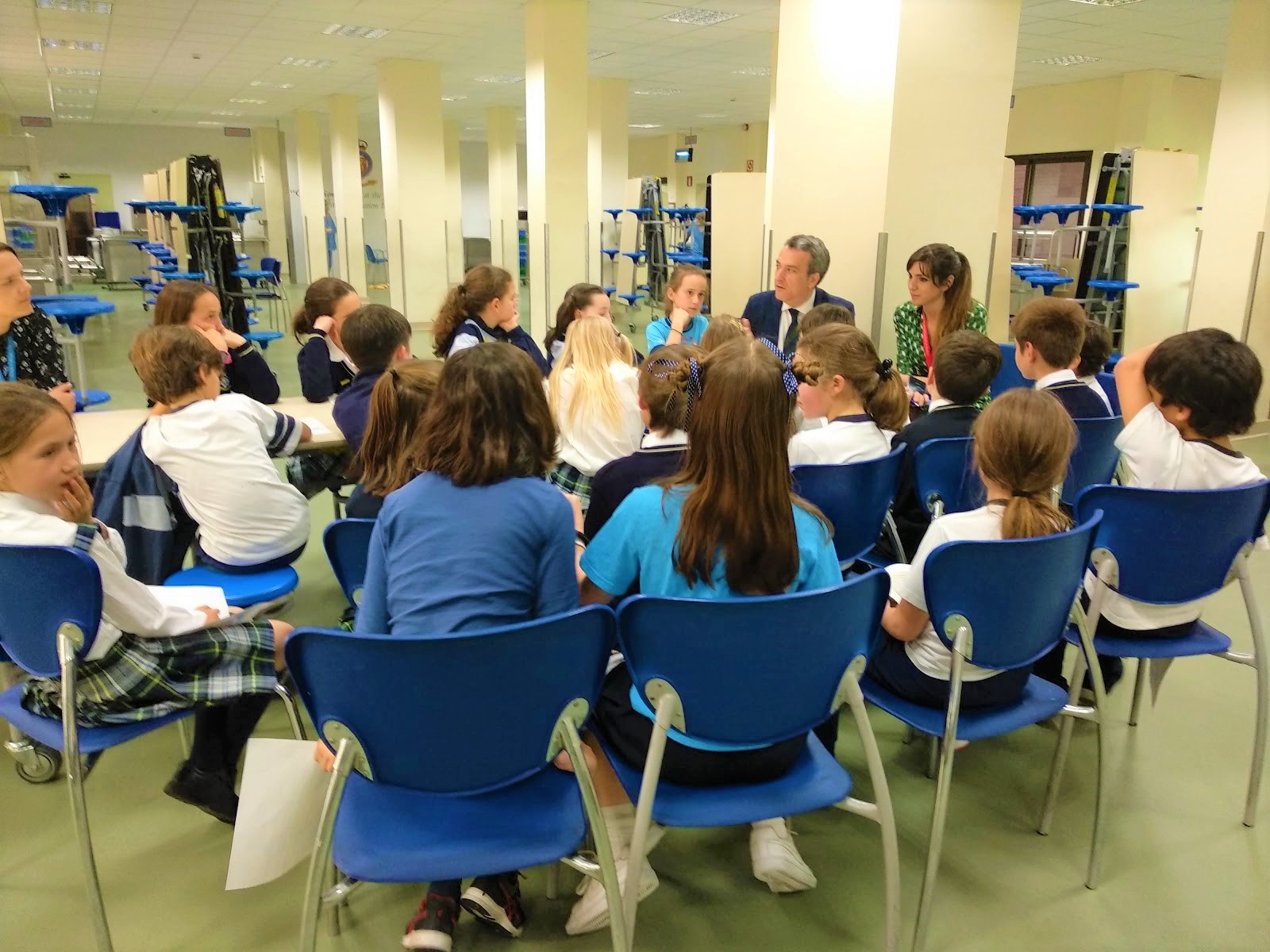 Reducing the Use of Plastic in Primary
On the 12th of March, Pablo Paramo returned to King's College Soto to talk to our students about waste management. His compelling visit to Reception in January focused primarily on recycling but this time he educated our Year 6 students on the detrimental effects of the use plastic. Plastic is an incredibly useful material, but it is also made from toxic compounds known to cause illness, and because it is meant for durability, it is not biodegradable. The excessive use of plastic is killing animals; causing air, land and sea pollution as well as being very expensive to clean up. Mr. Paramo provided our shocked students with practical solutions to a more sustainable use of plastic like shopping with reusable bags, getting rid of plastic bottles and getting involved in plastic clean-ups among many others. We would like to thank Mr. Paramo for coming in again and presenting this crucial information in a student engaging way. One of King's College's core values is respect, and this extends to respect for our environment and nature, so it is imperative we provide our students with the resources and knowledge to look after our planet!
Water Polo with the Real Federación de Natación Española
On the 12th of March a representative from the Real Federación de Natación Española visited King's College Soto to educate our Year 5 students about Water Polo. The morning started with a talk about Water Polo technical theory, focusing particularly on how to hold and swim with the ball, as well as positioning and shooting. Then, like ducks in water, it was time for our Year 5s to take a plunge and carry out some drills. Students swam back and forth, perfecting their swimming with the ball, passing and shooting. The morning ended with a competitive match that drew 2-2 with a goal in the very final minute! King's College Soto would like to thank the Real Federación de Natación Española for a very enjoyable and educational morning.
King's Celebrates Enrichment Week
Last week King's College Soto celebrated Enrichment Week. The purpose of this week was for our students to explore different countries and cultures. From Pre-Nursery to Year 1, each class selected a country to study in depth, particularly focusing on their individual environments and how they differed to Spain.
World Week Activities
World Week Activities included a full range of colourful and multicultural activities. Among many other things, Year 3 made Zambian animal masks and sketched Icelandic Northern Lights. Year 4 painted Thai Elephant frames, made Greek Pottery and Chinese Blossom Trees. Year 6 made Brazilian collages, Welsh clay castles and learnt the Russian alphabet. King's College Soto made the most of its ethnically diverse alumni with visits from parents from different nations, who talked about their native traditions and customs. Our students were captivated by the cultures they studied, sparking a desire to further study their languages and visit these nations in the future.
World Market
All this learning about foreign lands and their cuisine, music, fashion, traditions and beliefs were put on display at the World Market. The whole of Primary got together on a sunny Thursday morning to visit the student-designed stands of countries such as Mexico, New Zealand, Brazil, Russia, China, Australia, Japan and Greece among many others. Stands displayed the research and artworks our students had undertaken earlier in the week and each nation had students representatives giving fun facts and detailed explanations. Spain was not underrepresented however, with long lines of salivating children awaiting the delicious Tortilla prepared by the Spanish staff!
Alongside the World Market there was a vibrant festival taking place! Each Year Group had prepared performances relating to the country they had investigated. Teachers and alumni alike were thrilled by renditions of traditional dances from all over the world. The show began with Year 3 performing the Maori Haka, the miniature students roared loudly as they stomped their feet on the concrete. This was followed by an energetic Brazilian Samba, Year 6 students hopped and bounced in unison to the heartracing Brazilian beat. Then, Reception were at their cutest with a Princess Waltz which left the crowd crying sugary awws. The Northern Lights show by Year 2 involved students gracefully dancing and flaunting their colourful ribbons to emulate the effect of the northern lights. The headliner of the festival may have been Mrs. Parkinson however, who took centre stage with Mr. Jones, Mr. Simmons and a crowd of students, with a synchronized execution of the Cha Cha Slide! The closing acts for the World Market Festival were African drums by the music club and Spanish Sevillanas with the Spanish Teachers. The wonderful atmosphere of this event left students wanting more and set the stage for Friday's event: World Vision...
King's Soto Celebrates Enrichment Week