News Service | Filtered by Primary News
News Feed
Healthy Living Week
Healthy Living Week
For many students at King's College Soto, the penultimate week of term brings an end to challenging exams, tests and assessments. Therefore, Healthy Living Week was welcome like a cold glass of water after a leisurely stroll through the Sahara. This shift in curriculum from rigorous and efficient academia to the promotion of healthy food, exercise and mindfulness meditation teaches our students that the driving forces of life are not just academic or athletic achievements - developing healthy habits and leading a healthy lifestyle are also part of the equation.
Throughout the week, each morning began with a ́Wake up and Shake Up ́. With summer on his mind and a spring in his step, Mr. Simmons brought the beats and choreographed bite sized intensity workouts. The Bring Sally Up squat challenge felt like a lead injection and had legs quivering, whereas the Cha Cha Slide energised our students and had teachers swimming in nostalgia, reminiscing a night or two at the disco. Students would then walk up to their classrooms to partake in either some yoga or meditation, with the purpose of grounding the body and centering the mind for a productive morning of study. Among many other health-conscious activities, the curriculum for this week incorporated tips for wellbeing and tackled certain questions like how much sleep should one get, sugars and fats in certain foods, amounts of exercise required for a healthy lifestyle and fused them into subjects like Mathematics, English, Science and PSHE.
At King's College Soto healthy eating falls at the top of our priorities when it comes to the welfare of our students and we already invest heavily on aiming to provide our students with an abundance of fresh fruit and hearty school meals. Nonetheless, Healthy Living Week was a great opportunity to improve our service and to explore further options King's might offer in future. For example, on Tuesday, King's students could help themselves to fresh orange juice and rye toast with 'tomatina' for the primary breakfast. Furthermore, rows upon rows of fresh exotic fruits like watermelons, melons, pineapples, oranges and mangos was gobbled up by smiling faces each morning patio.
On Friday it was time for the annual Danceathon that culminates Healthy Living Week. The whole of Primary gathered in the spacious Sports Hall. Rows of children moved to the rhythm in unison like a flash mob in Times Square. The dancefloor trembled as students stomped away, dancing energetically until their little legs would no longer allow. There was a special performance from Mrs. San Roman, who gracefully danced a Sevillana followed by an intimidating Haka from all the Year 3s; an invigorating Nae Nae from the Year 5s; and a choreographed rendition of Cake by The Ocean from the Year 6s. King's College Soto would like to thank our teachers for putting this wonderful week together and our students for joining us in the movement for a healthier and happier life.
Spanish Day
Spanish Day
On Wednesday 19th of June at King's College Soto, it was the Spanish staff ́s turn to take reign of our eager Year 6 students, who felt elated to be going on a tour of the capital city of Madrid. Dropped off at the Royal Palace, our Year 6s, who were slathered in sunscreen and shaded by caps, met with a group of professional tour guides that would unveil the fascinating facts and mysteries found in the city our students are growing up in. The first stop was outside the Royal Palace, and, with an excited glance at the police horses, they set off on a tour around the bountiful Asturias region of Madrid. Our students marvelled at all the historic buildings and monuments on display. Their curiosity was met by that of the tour guides, who asked the group challenging questions they then had to research on class Ipads. After a couple hours of discovery it was time to stop off for Merienda at one of the paradisiacal gardens of Madrid. Underneath the shade of lush trees and exotic vegetation, our students sat by a murmuring fountain and enjoyed traditional ham, tomato sandwiches as well as a selection of fruit. Yet exploring had to continue and so it did. Our students made their way to the Royal Palace where they were unexpectedly met by the royal parade. Year 6s could not believe their eyes! What an exhilarating bonus to this tour, standing a few meters from a waving King and Queen! King's College Soto would like to thank our Spanish staff for organising this marvellous trip and we hope the students had a great time.
Year 3 Residential Trip
Year 3 Riaza Residential
Our Year 3 children spent a week in a beautiful country house called La Casona del Prado in the small village of Riaza (Segovia).
The week has been filled with many exciting activities and songs led by a group of experienced monitors who encouraged the children to participate and play collaboratively, offering an opportunity to create stronger relationships across the year group.
In addition, the children visited a cave "La Cueva de los Enebralejos" which reinforced their previous learning from early this year about the Stone Age. Here they designed their own necklace from beads and natural materials and explored a typical Stone Age village, learning about their diet, musical instruments, hunting and their daily life.
The evenings were spent enjoying the big open field and feeding their curiosity about the nature that surrounded them there at Riaza.
After visiting the village, the children had a picnic and played in a spectacular park filled with many games.
The final night was celebrated with a party and theatrical performances organised by the monitors. Each group prepared and performed their own unique show. What a wonderful way to end such an incredible experience!
Year 3 Sports Day
Year 3 Sports Day
On Wednesday the 12th of June at King's College Soto , the sweltering heat could not melt the excitement of the Year 3 students for their Sports Day. News of the Year 4, 5, and 6 annual Sports day that took place last month had awoken the green eyed monster within the younger ones, so there were many appeased expressions on the astroturf, happy to finally have their own personalised Sports Day. In preparation for this anticipated event, Mr. Simmons had set up a complex rotation and point system that meant each student gave an equal contribution for their House. There was certainly a somewhat light hearted approach to the events, with Cricket Wicket, Exercise Ball Relays and Frisbee on the roster - our students took it very seriously nonetheless. Assisted by the ever-helpful Year 6 students, the Year 3s frantically threw frisbees through hoops, relay-raced on bouncy balls, dribbled past cones and dunked on mini- baskets. A competitive day full of rosy cheeks and sweaty scalps brought a narrow victory for Crown House! Green shirts danced joyfully on the field, delighted that their efforts had got them the win. We would like to thank Mr. Simmons and our Year 3 teachers for designing this enchanting Sports Day and all of our Year 3s for giving their utmost effort.
Year 6 Graduation
Year 6 Graduation
Transition from Primary to Secondary is a memorable, albeit slightly intimidating, process. To celebrate this moment, the Year 6s ended their year with a spectacular performance in the auditorium, highlighting their memories through various sketches for the parents.
As part of a wider performance, each class took us on a chronological journey throughout their time at King's. During the play, each class had grandparents reminiscing to their grandchildren about their ́School Daze ́, whilst set 70-odd years in the future. Hence the story was told through a series of hilarious flashbacks, accompanied by upbeat music and expert choreography directed by the children. Clearly, collectively the children had been making every effort when practising, as the quality of their performance would not be out of place in a Secondary show. A special mention must go to 6M ́s hysterical sketch, which centred on Mr McDonald ́s comedic scenarios of life as a teacher
The performance was also dotted with solo recitals of personal, hand written poems about their journey through the Primary school. Although there were moments of laughter, the evoking words resonated feelings of nostalgia with our audience, and prompted even a few tears. Overall, Year 6 stunned us with the sheer level of professionalism in both their acting and singing.
We wish them all the best next year in our Secondary department and look forward to celebrating their successes.
Trading Seminar with Mr. Crouch
Enter your news text here using the editor above to adjust formatting.
Book Donations to Tanzania
Book Donations to Tanzania
A Day at the Botanical Gardens by Year 5
On 22nd May, we (Year 5) travelled to the botanical gardens. The first thing we did was investigate about plants and insects. There was an outdoor area where we could go to ask some questions. We also sketched the gorgeous plants and trees. After that we did a workshop of insects. At last, we ate a picnic lunch in the gardens. It was a wonderful day. Maybe one day we will return to see the gardens in a different season. -Year 5 Students
Mental Health Week
Did you know around 20% of teens experience depression before they have reached adulthood. From Monday 13th-Friday 17th it was Mental Health Week worldwide with a focus on Body Image. Therefore, King's College Soto made efforts to promote this cause of paramount importance. On Monday morning, students saw all their teachers wearing green ribbons and so curiously enquired what it stood for. The green ribbon brings awareness to the needs of the families of children with emotional, behavioural, and social challenges. The goal of the green ribbon is to demonstrate how children's mental health initiatives promote positive youth development, recovery, and resilience. By the end of the week, we saw many students proudly wearing the green ribbon. In addition to including classes about Children's Mental Health in the curriculum, Year 4 delivered a riveting play with the overarching theme of Body Image. Year 4 carried out a two part extravaganza. The first based on the film Inside Out where children explored their emotions by giving them life through a character which had the crowd switching between interludes of hysterics. Secondly, the kids reinterpreted a Dove campaign where a model was transformed through Photoshop to look "natural", bringing to light the discrepancies of the fashion industry and the effect this can have on self-esteem and mental health.Our PSHE Coordinator, Ms. Kelly Thornes, also led assemblies on emotions and body image with the younger children in KS1 and EYFS.
Spring Concert
On Friday the 15th of May, decked with spring flowers, our Primary students performed in the Spring Concert for fellow students and parents. After months of rehearsal, fellow students and parents were delighted by renditions of classic songs like Chitty Chitty Bang Bang and Over the Rainbow. The auditorium was serenaded by angelic voices, strumming of ukuleles and guitar chords and the harmonics of violins. Ms. Amos skillfully directed the orchestra and choir, whilst Mr. Blake accompanied them on the piano. There were strong solo performances from members of both the LKS2 and UKS2 choir, pianists and guitarists. The Percussion Club, directed by Carlos Sanchez, also amazed us with their skillful cup tapping.We would like to thank our music students and teachers for all their hard work in preparing for the spectacular show.
Sports Day
On Friday 17th of May King's College Soto celebrated their annual Sports Day. Hundreds of students in multi coloured t-shirts representing their houses flocked to the Tres Cantos BF Sports Centre. The day was unfortunately rather cold as a colossal grey cloud loomed over the race track. The threat of rain worried event organiser Mr. Simmons, nonetheless, the show had to go on and our athletes seemed unphased by the conditions.
Each student competed in at least one event, with some volunteering to race for their house up to 3 times. Students took part in track events from 100 to 800 metres, javelin and disc throw as well as long and high jump.
Backed by original tracks, students in the crowd energetically chanted lyrically altered songs to cheer on their house: "We love to say that Knights are the best!" was a cheeky take on YMCA, "We are the red house!" evoked the same intensity as We are the Champions.
Ms. Silburn called competitors down from the stands and one by one each athlete gave their all for their house. After a long day of athletic excellence and precise umpiring from our teachers, the votes were taken in to be counted up. Tension had built up to boiling point during the ballot, helped by a thrilling teacher relay were Mr. Tamblyn (aka Mr. Bolt) took the win in the last 30 metres. "Votes have officially been counted," announced Ms. Silburn as student house songs resounded in every corner of the huge stadium. Drumroll…. and the winner is...Knight house! Knight House were crowned winners of the 2019 Sports Day! A huge thank you to Mr. Simmons for putting this marvellous event together and for all the students and teachers who gave their very best.
Words and Wonder Week
Tuesday 23rd marked the beginning of King's Words and Wonder Week. This week is set out to promote the magic of storytelling and to encourage a culture of reading in our students, instilling in them this very important habit. Reading and being read to helps our students to expand vocabulary, improve memory, better their writing skills and increase concentration and focus.
The week began with Shakespeare Day, with special performances from our Teacher/ Story Teller Heather Parfitt who skillfully covered Shakespeare's Midsummer Night's Dream and Romeo and Juliet in an interactive, child-friendly way. Children enjoyed the hilarity of choosing our Romeo's and Juliet's from the audience, yet, by the end of the show they were on the edge of their seats, anxiously awaiting the climax of this cautionary tale. Monday also marked the beginning of Primary paired reading sessions.
In these sessions, Year 5 and 6 students went into Year 1 and 2 classes to read with the younger students. Upper Key Stage 2 students enjoyed the responsibility and pride that came with reading to the little ones, who very much enjoyed making new friends who could read the more complicated books.
Similarly, throughout the week, parents took centre stage in the first period of the day, reading their favourite fables and stories to their children in class. Students were visibly very excited (at times embarrassed) to have their mummies and daddies reading stories to curious classes. The sometimes comedic dynamic between the parents and their children when it came to presenting the story was entertaining for the students and teachers alike. Wednesday brought the much anticipated Readathon. Starting in Nursery and culminating in Year 6, students had to read as a class or individually for a total of 15 minutes and pass the readathon-baton to the next class with the objective of getting through every single class in Primary. Year 6 was splitting hairs but managed to complete their reading by the end of the day! The final word read brought a merry cheer and a thundering round of applause.
On Thursday, King's College Soto had the privilege of welcoming internationally renowned storyteller Andy Wright on our theatre stage. Our guest reader marvelled King's students with folk tales from around the world- rich in cultural background as well as abundant in dramatic hand gestures, onomatopoeia and dances. Andy's stories had students in hysterics while they learnt about the origin of New Zealand's 'fishhook' islands and in tears when they heard the story of Andy's traumatised veteran grandad (the one with the pale, oh so very pale legs). Our large theatre trembled when students stomped the ground, beat their chests and roared like lions in a Haka performed in unison to honour Andy's electric performance.
On the last day of the week, King's opened their gates to a flock of eccentric, creative costumes that soon flooded the playground in anticipation for the annual Fancy Dress parade. Teachers selected their favourite costumes to represent each class on the catwalk. Walking out to a playlist Kate Moss would have swept a catwalk with in the early 90s, Gangster Grannies, a Hungry Caterpillar, Cruella Deville, Soldiers, Princesses and even an 8 of Hearts strutted their stuff for rows and rows of children full of Wonder, a fitting end to a great Words and Wonder Week.
Murcia Games Champions
Earlier this month, some of our top athletes competed in the annual Murcia Games. Competing with other COBIS schools in basketball, football and athletics among other sports. King´s College Soto places 1st! Champions!
Year 4 Bake Sale
We had a wonderful day at our Bake Sale to raise funds for one of our flagship charities Porque Viven, who provide support and bring joy to children in palliative care. The children brought in hundreds of cakes of all different flavours, shapes and sizes. Their salesmanship and initiative paid off as they manage to raise €800 in just one day! Thank you to all the staff, parents and pupils who participated and added to such a great cause.
Translanguaging in Year 4
Translanguaging is a concept being practiced in Year 4 which celebrates multilingualism and sees things from the perspective of the student.
Translanguaging is a theoretical lens that offers a different view of bilingualism and multilingualism. The theory posits that rather than possessing two or more autonomous language systems, as has been traditionally thought, bilinguals, multilinguals, and indeed, all users of language, select and deploy particular features from a unitary linguistic repertoire to make meaning and to negotiate particular communicative contexts!
Walk for Water
In April, Year 6 and 7s went on the Walk4Water to raise awareness of the importance of clean water and adequate sanitation, moving towards a future in which all children have close access to safe drinking water, good sanitation and sufficient understanding about hygiene for healthy living. This year children raised: €8, 357 !!! All money raised will be donated to one of the school's 4 chosen charities, namely Nyumbani Village.
http://www.cloud9m.co.uk/…/nyumbani-a-home-for-hiv-infecte…/
The day began with lines of excited classes meeting in the King's College Soto porch. There was a timid distance between the two Year groups, who barely have face to face time on a daily basis. An added benefit of the walk is to have the Year 6 and 7s mingle and interact. Thereby, this makes the daunting entry into Secondary for the Year 6s less intimidating, as well as instilling a culture of empathy and care in Year 7 students.
Nonetheless, it was time for our students to start walking, the goal: to walk six kilometres with up to five litres of water in backpacks. This was King's best attempt to recreate the conditions some children, who have no access to clean drinking water, have to walk daily, in much hotter conditions, without shoes, food or comfortable backpacks to collect water - often dirty, infected water.
At around the two kilometre mark teachers on the walk began to hear some complaints, "My legs hurt! It's too hot! I'm hungry!" Teachers stopped the children to rest in the shade of a blooming olive tree. It seemed that the temperature had melted the ice between Year 6s and 7s, who begun to converse about the harsh conditions and to empathise with the African children. The next few kilometres were a real challenge for most of our students, who were sweating and panting by the time they got to the local park, which at this point, was greeted like a mirage by our exhausted students.
After a wonderful picnic and some time to play in the park, our Year 6s and 7s took part in some bonding activities. Mr. Crouch played a game of mingle with the students, which involved them jogging directionless until Mr. Crouch shouted out a question (e.g. How many languages do you speak? What football team do you support?). Students then had to find other students with the same answer and discuss these subjects. Subsequently, it was time for some reflection. Our teachers led groups of around twelve Year 6 and 7 students and together they chose a spot to reflect on what things they learnt from this experience and how the could do it differently. This was also a chance for the Year 6s to get to know some of the older students and vice versa.
Overall, it was a beautiful day for outdoor learning and the children got some perspective about challenges unprivileged children face.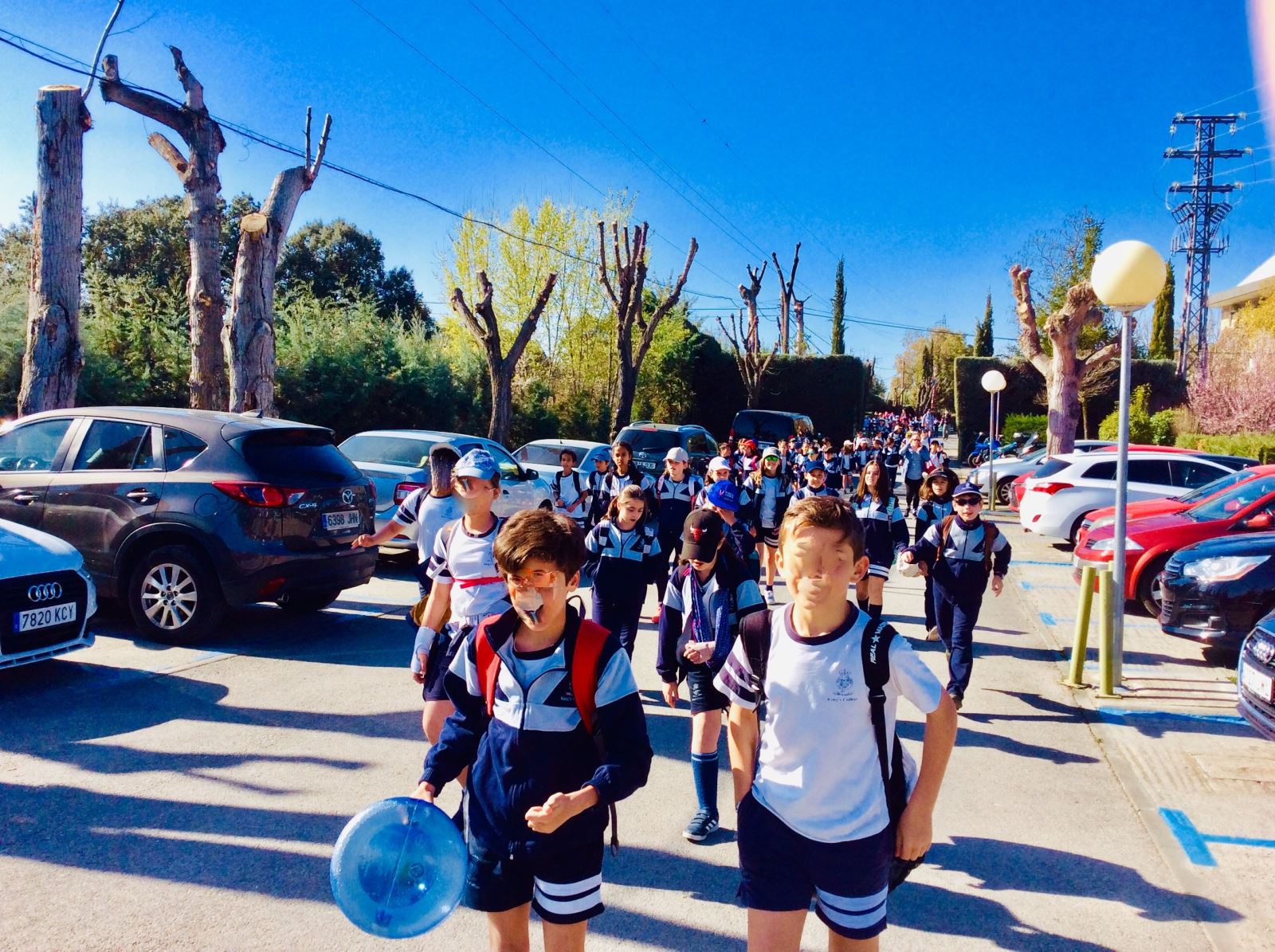 Outdoor Learning with Ms. Silburn
We love to see our classes involved in outdoor learning! We believe that children should connect with the natural environment and the benefits of learning outside. This involves observing the outdoor space and seeing things such as animals and plants. What is your favourite part of being outdoors?
Trading Seminar with Mr. Crouch
On the week of the 1st of April in King's College Soto, our newly appointed Deputy Head Mr. Crouch delivered a series of Trading seminars to our Key Stage 2 students. The seminars began with an activity which involved students having to design, cost, manufacture and sell products made out of paper. However, there was one caveat, some groups were given more materials to manufacture whilst others were granted a lonely blank sheet of paper. A hectic hour of negotiation, trade, persuasion and underhand tactics ensued. There were complaints regarding the fairness of the situation, much to the delight of Mr. Crouch, who had predicted this conclusion and closely watched students showing signs of resilience.
In the final minute of trade, our Movement Room now resembled a Wall Street Trading floor. The hustle and bustle was stopped with a signal, and Mr. Crouch gathered the expectant students around him. Mr. Crouch discussed tactics he had seen and pointed out some opportunities that had been lost. Yet, the overarching question was whether all this was fair (an important requirement in most things for children). Mr. Crouch explained that in international trade, some countries dispose of vast resources and wealth whereas others have to operate with poverty, lack of education and technology. Our Deputy Head covered things like global aid, international loans and the positive effects of migration and immigration when it relates to the influx of talent and technology in host countries. Students felt grateful to to be habitants in a First World country and greater understood the struggles poor countries face. Perhaps some of our students will choose to be leaders in an international context. At King's College Soto, some of our core values are initiative and collaboration. As a school we aim to teach our students these using practical, involved and engaging methods like Mr. Crouch's Trading Seminars.