News Service | Filtered by Secondary News
News Feed
Athens 2019
There is no place like Athens that has such a long history and influence on our world, and that is why I chose to go to Greece with school. The moment the plane flew over the bright blue ocean preparing to land on the land of Gods, I was really excited and could not wait to explore this beautiful country.
We visited many places, however, 4 days were not enough to enjoy all the attractions. On the first day, we went to the National Archaeological Museum of Athens where most of the important sculptures are kept, and I think it is was a great introduction to this country and the upcoming big days.
The second day was one of the most important days because we went on a cruise trip to three important Greek islands, Hydra, Poros, and Aegina, the first capital city of Greece. We woke up early in the morning to get the cruise at 7 am, which is a bit too early for travellers like us, but it was worth it! Due to the fact that the cruise trip was a day trip, we spent most of the time on the cruise which I didn't find boring at all as we always had something to do with our friends on the way travelling from island to island on the blue sea. Each island was unique which I found really interesting, the people, the culture and especially the architecture were fascinating. At the end of the day, we had dinner at the local restaurant and had a chance to listen to Greek music, performed by local artists and, also got to watch a traditional Greek dance. Additionally, we got a chance to join in the dance and it was a really enjoyable experience.
The third day was more educational than the 2 previous days. We went to the Acropolis where the Opera Halls, Temples and Parthenon are. This was the day that we were able to learn about the history of Greece from an experienced tour guide. We started with a brief explanation about the Acropolis at the museum, before going to the actual site. I was really grateful and happy to have seen these World Heritage Sites at least once in my life. Furthermore, in the evening we had a chance to attend a Greek food workshop which was delicious. We learned how to cook different kinds of traditional food, especially how to cook the food we had been eating for the past two days. Lastly, the Greek dance workshop was one of the most memorable moments for me whilst on this trip as it was the last day of the trip, but we still had lots of fun learning about Greek traditional dance and at the same time have a lot of fun with our friends and teachers.
For me this trip was phenomenal, it was a great chance for me to enjoy myself with my friends and to also make new friends. Travelling abroad in a group taught me to be independent, punctual, and responsible. This trip gave me more than just exploring and seeing another part of the world but also to learn and experience a lot of new knowledge, "Greece was great!".
Ponpipat - Year 12
Youth Mental Health First Aid Course
Mental Health is key for our well being, I've learned how it is all connected to what we think and how we feel. I believe this course has highlighted topics that not many of us know about and should be educated on. We generally do not know enough information about mental health problems and so we tend to create stigmas due to myths and misconceptions which are false. Understanding treatments and symptoms of mental illnesses can help us promote awareness and encourage young people to speak up. Throughout the course we spoke about mental health conditions, the distinction between diagnosed and undiagnosed illnesses, stress/pressure and how to call out for help or support other people. I now consider that knowing how to respond is very important as it will make a difference, sometimes the assistance of family or friends is just as effective as professional help and knowing how to deal with stress or problems such as depression or anxiety can make things easier.
Mental health affects everyone and I strongly believe that being educated on such themes can make us change the way we see people.
Regina - Year 12K
Further Maths Brainstorming Workshop
The Further Maths Brainstorm Workshop is a student lead workshop, where Y12s and Y13s work side by side to tackle challenging further maths questions. Students try to solve problems in an interactive manner, promoting an ideal learning environment for students to improve their teaching skills and exam technique.
Tomas, Head Boy
Grease The Musical Coming Very Soon...
Don´t miss our production of Grease The Musical on Monday 8th, Tuesday 9th and Wednesday 10th April, in the school auditorium. All are welcome! Don´t miss out on an evening of great family fun, and support our students from Year 7 through to Year 13.
Wella, wella, wella, huh
tell me more, tell me more...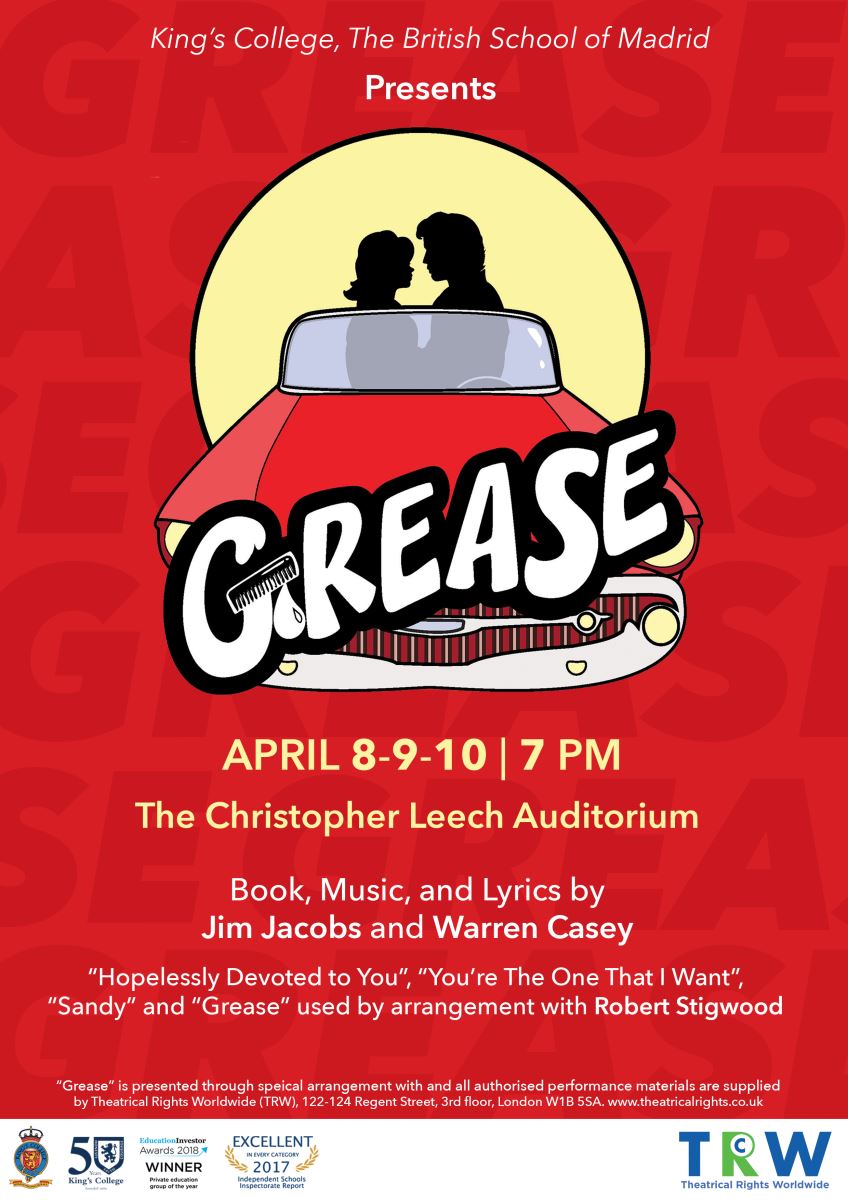 Intensive Revision Workshops for Year 11
During Enrichment Week, Year 11 students participated in intensive revision workshops for the core subjects and also enjoyed a range of activities designed to develop life skills and instill wellbeing during this potentially stressful time in their academic careers.
Biology, Chemistry, English language, English literature, Mathematics, and Physics teachers were impressed by the students' energetic and dedicated approach to exploring these core subjects more deeply through practical activities designed to practise key skills and resolve students' individual doubts about the trickiest topics. In English language, students dissected a challenging extract from "Crime And Punishment" and also analysed texts about Brexit using close reading techniques. At the three hour workshop on English literature, the groups were confronted by previously unseen poems and worked together to apply their knowledge and understanding of relevant literary terminology, producing useful revision resources, as pictured below. Miss Dowlen (Head of Year 11) also held morning sessions each day to recap key study skills including visualisation, making effective flash cards, and time management.
More excitingly, there were opportunities to help design and create the set for this term's musical theatre production, "Grease", a very relaxing morning of outdoor learning, and an invigorating hike around the lake at Rascafría, all providing a welcome change of scene - literally - from the classroom.
Here is the work produced in the poetry revision workshop:
Student Council Meeting
The class representatives of Key Stage 3 (Years 7 to 9) have attended a meeting alongside the year 12 Prefects assigned to their class. In this meeting they have spoke out on any issues their class may have in school as well as suggesting excellent new ideas to improve the school. The students discussed their preferences in the canteen, their views on uniform policies and all their thoughts were noted by the Senior Prefects. the Head Students and the Heads of the School Council, in Year 13. Student voice and democratic action are important concepts at King´s College and we are excited about developing this even further next year.
Ana, Year 12
Alumni News
My name is Ana Sanz Peña, and I am currently studying second year Medicine at University College London (UCL). I first joined King's College Madrid in 2002 (Year 4), and graduated with the class of 2012. During my time at King's, I took Maths, Biology, Physics, French, Economics and Spanish A Levels, but had to go back a couple of years ago to also take Chemistry as an A Level, as it is compulsory to be able to study Medicine in the UK. There were many things that made my time at King's an incredible experience, including the excellent teaching and outstanding facilities, but what I loved the most were the friends that I made during my time there. We are all still in touch and meeting on a regular basis, which will hopefully continue in the foreseeable future.
Right after King's I took a gap year, where I went to work as a Teaching Assistant at the British School of Beijing. Living in China for a year was an extraordinary experience, and having a break from studying before starting my degree was a well-deserved break that gave me the energy to start university refreshed. I then went on to study Natural Sciences at UCL, majoring in Neuroscience & Psychology with Medical Physics. I have always loved science and I definitely enjoyed my degree, but through internships and work experiences I realised that working in a lab was not for me. This led me to apply to Medicine, as working with patients really did fulfil me. I must admit that studying a second degree is a huge commitment and requires an enormous amount of effort (especially Medicine!), but I really am enjoying the content, and cannot wait to enter my clinical years.
In the future, I would like to become a surgeon and specialise in either Neurology or Cardiothoracics, although there are many years ahead of me before I can. Once I do, I am hoping to move to Australia or the United States, and maybe even work with Doctors Without Borders for a couple of years. All in all, if I could give any advice to King's students it would be to choose your A Levels wisely, making sure they are adequate to fulfil the requirements of the degrees you like, but also interesting enough for you to enjoy them. Make sure you work, work, and work some more, as achieving high grades in your GCSEs and especially in your A Levels will give you the freedom to study what you want where you want, and believe me, there is nothing better than pursuing your dreams!
EducationUSA comes to the British School of Madrid
On Friday 8th of March, we hosted our first ever visit from a representative of EducationUSA, the federal agency that provides official advice to residents in Spain interested in applying to university in the USA.
Academic Advisor Nanor Demirjian gave a lively presentation that was well attended by students from Years 10, 11 and 12, and she was ably assisted by Y13's Carlos C, who shared his own experience of applying to some of America's great universities. Nanor proved a lively speaker who established an instant rapport with the pupils and who answered questions expertly, honestly and encouragingly. Nanor was equally impressed by her audience's intelligence and charm.
EducationUSA has offices in Madrid, and has been kindly supporting King's pupils and parents with great advice for years.
Churros and Porras Charity Sale
The Charity Committee created a "Churros Day" to bring back the winter atmosphere to the school by selling Churros and Porras, Spanish traditional fried-dough, in order to raise money for the charity organisations the committee are working with. This event was a great opportunity for the committee and other King's pupils to give a hand in terms of helping while simply enjoying the eating of tasty churros. With support from the King's pupils and Charity members, we were able to raise a huge amount of money. With this money we are able to spread our help successfully. We hope this event will happen again to gather everyone in school as one, with everyone we could make life better for others.
Ponpipat - Year 12
Trips Week - Tenerife
18 Students went to Tenerife for 5 days with Mrs Requena and Mr Urizarbarrena during Trips Week 2019.
The first day we went to Lagos Martianez which are pools but filled with seawater. We were in the Atlantic Ocean, so the water was freezing! After that, we went to the beach and took photos. Later we walked around town and bought a few souvenirs. At night we had dinner and the food was really good and the people were very nice. On Tuesday we had to wake up really early because we had to take a bus to the South of Tenerife. We then took a boat to Acantilados de Los Gigantes and we saw whales and dolphins. It was awesome! On Wednesday we went to Loro Park and it was really fun because there were many shows and animals. On Thursday we took a bus to El Teide and when we got there, we took a teleferico (cableway) which took us almost to the top. Then we had to trek about a kilometre and a half, but when we stopped, there were some spectacular views to appreciate, so it was well worth it. Lastly, on Friday, we walked around the town again to buy souvenirs and do last minute shopping.
We all spent an amazing time in Tenerife. We swam in the pool or at the beach every day. The sunny weather was most agreeable!
Miguel, Federico and Javier, Year 8
Around the World in 80 Days
The whole of Year 7 went to the theatre to watch Around the World in 80 Days.
Mr Fogg made a bet that he would get 20 thousand pounds if he can travel around the world in 80 days. He took his servant Passepartout with him and he actually made it in 80 days. It was not easy though! On his way he met the policeman, Mr Fix. Mr Fix thought he was a thief, so he tried a lot of ways to stop them travelling and tried to catch them. Mr Fogg first visited Switzerland; then he went to Mumbai; after Mumbai he went to Calcutta and he saved a lady, called Aouda, there. He then went to Hong Kong; then travelled onto Shanghai because he missed the boat from Hong Kong to Yokohama. After Yokohama he went to San Francisco; then to New York by train; and finally back to London. In London he was caught by Mr Fix and he thought he had run out of time. When Passepartout checked the time they found out that they were actually not late, becuase they had become confused by the different time zones of different places and therefore missed the counting of one day! At the end of the story Mr Fogg won the money and married Aouda.
Everyone in Year 7 really enjoyed the visit to the theatre and very much look forward to the next performance we will get to go and see.
Jin - Year 7
Mentoring at King´s
The mentoring programme at King´s Soto is popular and successful. A large number of Sixth Form students sign-up to be mentors and to assist in the programme every year. We asked Norberto in Year 12 about his expereince of mentoring after observing one of the sessions he was leading at a lunch time.
There are two ways that students benefit from mentoring: as a mentee or as a mentor. As a mentee, you can receive extra support on topics you may struggle with on your respective subjects. Or if you feel comfortable with the work being achieved in lessons perhaps you can take the challenge and push yourself by extending your knowledge, and aiding youself in achieving the best grades that you are capable of by being a mentor. As a mentor, it is not only about helping your mentee, actually, you are benefiting yourself just as much as they are. The chance of teaching other students will reinforce your knowledge of the subject at hand as you will have to clearly organize your ideas before explaining them to others, and will help you learn and remember whole topics in the best way.
Norberto, Year 12
King's Group Professional Development Weekend 2019
The Professional Development Weekend (PDW) is a two day event held each year for King's Group staff. The event provides both teachers and support staff from our network of schools with an intensive programme of professional development and networking opportunities.
This year's PDW, held on the 15 – 16 February, was particularly special as we are celebrating the 50th Anniversary of King's College Soto and of King's Group. King's schools have been at the forefront of British education internationally for the last 50 years and the training opportunities for staff are one important aspect of the Group's commitment to staff development. The event was attended by staff from King's College, King's College School, King's Infant School, King's College Alicante, King's College Murcia, King's Infant School Elche, King's College Saint Michaels, King's College Frankfurt and King's College Latvia.
This year's opening plenary was delivered by Dr Christian van Nieuwerburgh, Professor of Coaching and Positive Psychology at the University of East London and Managing Director of Growth Coaching UK who gave an excellent talk on "Prioritising Wellbeing - Integrating Coaching and Positive Psychology in Education". The afternoon plenary was delivered by Nigel Fossey (Head of KCS La Moraleja), Gemma Marsden (Head of Primary) and Jeremy Newton (Head of Secondary), along with Primary and Secondary pupils from KCS La Moraleja, who gave an insightful presentation on the benefits of "High Performance Learning", an initiative which is being implemented in their school.
On Day 1, the PDW programme included a wide range of subject-related or stage-related thematic pathways that staff were able to follow, with sessions delivered by guest speakers and members of staff. Day 2 was structured around a series of facilitated workshops for staff from the different schools, allowing them to work more closely together in their particular key stages or subject areas. With the strapline "Teachers as Learners: Developing professional competence through collaborative learning and reflective practice", the PDW was designed to create a valuable opportunity for reflection, learning and the sharing of ideas with a view to generating improvements and change both in the classroom and beyond.
Facts and figures
430 members of staff attended from King's Group
9 participating schools from Spain, UK, Germany and Latvia.
82 hours of CPD sessions and plenaries
69 hours of facilitated workshops
27 external speakers and 8 internal speakers
38 senior pupils volunteered to provide assistance to delegates
6 exhibiting companies
Our Trip to El Pato Amarillo
As part of the charity committee, some of us had the amazing opportunity to attend the Pato Amarillo association, which is supported by Bomberos ayudan; one out of the four main charities which King's College donates to. El Pato Amarillo began in the eighties, as part of the movement of "Madres contra la droga", in the neighbourhood of Orcasitas. This neighbourhood was and still is economically and socially deprived which is the reason why they mainly donate food and clothing. Each day, this charity delivers a food cart to more than 700 families in need. These carts include a variety of fruits and vegetables, proteins and carbohydrates. The food is donated by schools like ours as well as other institutions, it is later organized and distributed by volunteers.
In preparation for our volunteering activity we have been collecting blankets and milk cartons throughout the month of January. The day of our visit, fifteen of us were able to go and spend the morning helping the volunteers to package the food for each family. The organisation vastly appreciated our commitment as well as our donations.
What was very inspiring was the opportunity to meet the founder, Pilar Aural, who despite having gone through extremely challenging times has dedicated her life to help people and families in risk of social exclusion and economic instability.
Having witnessed the amount of effort that an organisation like Pato Amarillo puts in daily, reminded us how one can make a difference and contribute to our community. All of us left Pato Amarillo with a very rewarding experience and we hope that many future King's students will get equally involved and have the same opportunity to visit.
Sabina - Year 12
Love is in the Air
It is Valetines Day at King´s Soto and our Charity Prefects and Committee have been busy distributing all the roses, flowers and candies purchased by the students over the last few weeks during registration time. It is another example of a successful and well-organised initiative by our student leaders. All the funds raised will directly support our four amazing charities.
Model United Nations Bilbao Conference
MUN is a unique, enriching and fun experience made up of many different activities for young students all around the world. To help them see different problems and opinions present in the world today and to get them thinking about possible solutions and agreements that can solve these problems and make the world a better place.
The MUN conference we recently attended in Bilbao helped to develop the leadership skills in the participants by improving their research, communication and socializing skills, making them more confident and more fluent when dealing with other people.
The experience also gave us the opportunity to understand how the UN (United Nations) works and what it does, as the organisation faces real issues, and we had to learn to use the appropriate terms and language when speaking to other delegates and when writing resolutions (a formal text adopted by a member or more of an MUN body, made up of preambulatory clauses which state the data and operative clauses aiming to solve the problems stated in the data).
At this conference we were given a delegation (a country such as India, Canada, Sweden,etc.) and for the first two days we were also assigned to a committee:
Disarmament & International Security
Social Cultural & Humanitarian
Special Conference on SDGs
Arctic Council
Within the committees we had to research about our country's opinions and perspectives, depending on the questions each committee had, i.e.
For the Environment committee:
A: The question of Preventing Natural Disasters and Reducing their Effects
B: The question of the Protection of the Dark Sky and the Starred Sky
C: The question of the Seventh Continent
We then had to write a resolution that was discussed and improved in the committee, and after the voting procedure, if the resolution passes, it will be discussed in the General Assembly with all the nations and its members. Furthermore, at the end of the conference there was a gala ceremony for all the member delegates who had taken part in the conference. The King´s Soto group of students learnt a lot from this unique expereince and have all returned back to school committed to grow MUN and get more students involved in this important democratic extra-curricular activity.
Salomé Sánchez López - Year 12
Scholars´ Dinner 2019
I am Maria and I am the Head Scholar at Kings College Soto. I arrived new to this school in Year 12 after living in England for four years, and although I was not at King´s since Nursery or even Primary I was rapidly taken into the family (we could say). I noticed that at King´s the teacher to student relationship and their willingness to help you with any problem you may have was truly outstanding - preparing and equipping us for employment and the demands of the future in a rapidly changing, dynamic and diverse global environment.
What I also noticed and liked about this school, were the amount of opportunities given to us to get out of our comfort zone, and to try new and unique experiences. As an art student and sport lover I have realised the importance of finding a balance between academic and co-curricular activities. These activities are the true and practical experiences gained by students by their own learnings. As a Chinese proverb by the teacher and philosopher Confucius very aptly says – "I hear and I forget. I see and I remember. I do and I understand."
Some examples of activities I have been able to take part in, during my time at King´s range from football tournaments and choir performances to Technovation - a worldwide app making competition for girls (for which I was lucky to work in a team with two other girls). Apart from these examples, there are many more opportunities to get involved depending on your preferences such as the debate club, MUN, swimming, volleyball, drama, STEM, charity, Relate, etc.
Trying all these new things and being involved, helps to enhance our all-round personality to strongly face the turbulent road of the future by developing our character building potential, spiritual and moral values, physical growth, self confidence, creativity and many more. Adding to this, it has been proven by studies that students pursuing their hobbies achieve better results than their fellows in all subject areas.
Finally, I would like to end by saying that it is truly an honour to be here talking to you all tonight, in this room we are all surrounded by future engineers, lawyers, doctors, designers, entrepreneurs, physicists, architects, mathematicians or even a president or a prime minister (and let's hope King´s College has prepared you to do a better job than those that are there at the moment!). In my case I have applied to study design engineering in England, the University of Bath being my first choice, and have received offers from four of the top Russell Group Universities.
On behalf of King´s College, I would like to congratulate you all, scholars of 2019, for all of your hard work and willingness to succeed and do well. Thanks to you, King´s College can proudly be recognised as one of the top international schools in Spain and beyond year after year. So my only piece of advice is to keep doing what you are doing - because if you do, and you believe in yourselves, you are capable of anything. Thank you.
Maria Hernan-Gomez Alonso - Year 13
Charity Starts at King's
The Charity Committee has proven to be one of the most rewarding, yet challenging experiences I have encountered. With the help of 4 other Heads of Charity (Emma, Inés, Alvaro, and Elliott) and 40 members from Year 12 we have managed to build and create a wonderful community of hard-working, dedicated and kind individuals at our school, with a desire to help those less fortunate than us.
Throughout the year we organise different activities, from monthly bake sales to whole day events, such as Christmas or Valentine's Day, and all the money that we raise is evenly split between the four school charities, "Bomberos Ayudan", "La Fundación ANAR", "Amigos de Nyumbani" and "La Fundación Por Que Viven".
Without a doubt, the most important day for the Charity Committee is the May Fair, where parents and alumni spend a whole day taking part in various enterprises, students create their own stalls, there is live music… and all the money raised is given to the charities. Another popular event for the committee is working with Bomberos Ayudan, as many members of the committee get the chance to go to their headquarters and help out there! Being part of a committee like this is definitely one of the highlights of my school life at King's.
Carmen Gutierrez de la Roza - Year 13
The Prefect Fair 2019: A Look into the Future
Who are Senior Prefects? What do they do? How to become one?
These, and many other questions were answered during the Prefect Fair on January 25th 2019, organised with the help of the impressive current representatives of the senior student leadership roles at King's College.
Firstly, having personally attended the fair, I would like to highlight the remarkable organisation of the event. One could talk to any Senior Prefect available by simply going to one of the many tables, where the presenting students were placed, according to the role they were promoting.
For example, I asked questions about being the head of mentoring and the 'relate' society, and they broke down the roles for me, making it crystal-clear, just like the sky over Madrid on a warm summer day!
Here are some of the senior prefect roles that students can apply for:
Head of Charity and Volunteering
Head of Tolerance and Equality
Head of Academic Mentoring
There are many more roles as well, which provide excellent opportunities for the senior students.
Together with the excellent organisation, the overall atmosphere is what really made the fair so inspiring and enjoyable. 'I think it was really positive, I could see that the students were really eager to listen to what the current heads had to say and I could see potential on the futureheads of each society,' said Mer Yousif - the Sixth Form Well Being Coordinator.
I personally would agree with Mer, because going to the fair has inspired and motivated me to really give it my best shot and apply for becoming a Senior Prefect; doubtlessly many other attendees would share my emotions too.
Overall this fair has confirmed that at King's College we value our future, as well as our past and present, as promoting the Senior Prefect roles for the current Year 12 students is really an investment into the future of the school and the students.
Roman Lavrikov - Year 12
International Poets Visit Year 10 English Classes
Having the opportunity to meet a poet is a great pleasure. I personally think, as an IGCSE student, that getting to know people that can give you advice, and that are talented in English really is helping me not only to grow academically, but it is also helping me to understand others better and get new skills. This visits are really giving me the opportunity to improve my English skills and I really appreciate it as I know not everyone gets these visits in their English lessons. On the whole I am really enjoying the visits of the various poets that have come and I hope we have more visits in the future. Below are a few of the poems that Year 10 have written inspired by our visitors.
By Clara Lema - Year 10
Alejandro González
Football:
A perfect sphere, light but full of emotions, so simple, but yet with so many incredible uses. An object that makes dreams real, where magic happens.
Vera Fortún
Winter:
Happy and blue,
Cold but warm,
Uncertain but distinct,
Unique and monotone.
Jorge Jofre
Doors:
Some have a handle, some need a key,
But all of them open if you want to be free
Student Councils Collaborate on 50th Anniversary Project
My experience working alongside the Primary Student Council has been extremely beneficial. When becoming a Senior Prefect, I was determined to try and bridge the gap between the secondary and primary students, and the King's College 50th Anniversary has given us the perfect chance to do so. We have been working together on the "Time Capsule" project where we have met for several meetings to organize and prepare it all, involving as many different student ideas as possible. During this time we have been working as a team and learning from each other. This has been a wonderful experience and I hope we can maintain this relationship across year groups and the two schools. We are very much looking forward to the 50th Anniversary launch event on 7th February and the burying of the time capsule in the school's grounds.
María Fernández-Combarro - Year 13 (Head Student)
Sixth Form Study Skills Workshop
On Friday the 11th of January the Year 12 and 13 students were able to take part in an innovative study skills workshop. A British company called 'Learning Performance' were able to come to share all of their knowledge and advice with our sixth form group, helping us with techniques to study smarter and not harder by making the most out of our revision time.
We first learnt some basics about how our brain works, and how we can use all of our senses as a method of studying, which then classifies us into different types of learners: Visual, auditory, reading & writing and kinesthetic. We also carried out a series of fun memorising games applying the different senses , making us realise that reading a list of things over and over again is much less effective than using loci, mnemonics or creating a story. Finally we also learnt techniques for making efficient notes such as 'A maps'.
Personally, after this activity I realised that each and every one of us is capable of achieving any goal we set ourselves- in our case achieving top grades in our A level examinations. The key factors are to believe in oneself and work hard for it. And for this to happen you need will power and strong study skills. I guarantee you that the combination of these things will lead you to success.
Maria Hernan-Gomez Alonso 13K
Returning Alumni Daniel Gabittas Explores Teenage Obesity Rates
I am Daniel Gabbitas, an Exercise and Sports Science undergraduate at Aberystwyth University and alumnus of the school. I joined King's College in 2006 and graduated in 2015. During my time at school, I studied Maths, Spanish and Geography as A Levels. At the moment I am still at university studying Exercise and Sports Science as a BSc and graduating this upcoming summer in May. The reason I chose to study in Aberystwyth was due to my gold Duke of Edinburgh expedition that took place in Snowdonia in north Wales. During my expedition, I began to become very fond of Wales; the views were breathtaking, the people we met treated us nicely and it felt like the right place to study. Sports Science was a degree which was suggested by Mr McNally, the school's university advisor, during my UCAS application period. I have always been involved in sports in and outside of school. The thought of wanting to help people enhance their life experiences through sport really caught my attention and I felt it was an opportunity that shouldn't be ignored, as sports have always been involved in my life. During my 9 years at King's College, I became obsessed with the stage and sports, I performed in the first school musicals that were brought back in such as Fame, Grease and Rock of Ages. Not only did I perform in the musicals but also being part of the school's orchestra and its own rock band, I was performing on stage every few weeks. This helped me secure a role as a senior prefect team and in particular the Head of Performing Arts. As time went on, I represented the school in many sports, such as in football and basketball tournaments, during the school's athletic competitions and the annual cross-country event. Representing the school with non-academic activities made me feel like I was part of the school, it made other students and I part of a team, creating long-lasting friendships. In 2015, when I graduated I won a COBIS award for the contribution to school life.
The reason I am currently came back at King's College is to get students to participate in my university dissertation project that looks into the teenage obesity rates in Spain. There have been statements and articles stating that Spain's teenage obesity rate was 40% between the ages of 12 and 16. My dissertation is arguing against these statements by using a closed populated area, at which results of the dissertation will be known later in the year. A reason why I chose teenage obesity is due to the lack of knowledge on how important nutrition and exercise is on a daily basis, whether it's a 5 pieces of fruit or vegetables a day habit or performing over 90 minutes of exercise a week routine.
The advice I would give to my younger self in school would be to listen to yourself when choosing your subjects for IGCSE and A levels, don't be scared to study something different from your friends, study what you enjoy and find interesting. Remember if you do your best, it will all sort itself out.
Daniel Gabbitas - King's College Soto Alumnus
Cordan Cake Factory Visit
To provide a real-life example of a production line in a large, machine intensive organisation, A Level Business students were taken to Codan just outside Madrid. On arriving at the factory we were assailed by the mouth watering aroma of baking cookies and magdalenas. Staff at the factory provided an enlightening presentation about the ingredients used in Codan's trademark 'Conche' cookies before handing out protective clothing and taking us on a tour of the factory. Photography was not allowed on the factory floor but our students got to see each part of the production process, with ingredients being squirted onto the production line, shaped, baked, cooled and then packaged. Despite the enormous temptation to reach over and pluck a freshly baked and delicious-smelling cookie from the open production line, our students behaved impeccably and even the teachers managed to restrain themselves!
The visit also provided an insight into quality control and waste management, as any faulty products were separated out and had to be thrown away. We also learned that whilst demand in January was fairly light, with the factory operating at 75% capacity, in the run-up to Christmas, all of the production lines had been in operation around the clock to meet the surge in demand from supermarkets and shops around the country.
Following the tour, we were each handed a fresh conche cookie to eat, then students took part in a competition to create the most interesting cookie from a set of ingredients. There were some truly innovative ideas and everybody got to eat their design at the end. To work off all the extra calories, students were then invited to take part in some outdoor sporting activities in the staff recreational area.
When students were asked what they learned most from the trip their answers included:
"I learned about the importance of organisation and efficiency in production for the food industry"
"I learned that businesses should be very organised to enable continuous production"
"I loved to learn and see how Codan's products were produced through all the stages"
"A wonderful experience and I am full of excitement to visit the factory on another occasion! Everyone was very professional and knew what they were doing"
"It was a truly enriching opportunity! The production process was especially interesting"
By A Level Business Students
Judo Black Belts
We are pleased to announce that two of our Year 13 pupils, Alejandro E y Àlvaro D, have obtained the Black Belt in Judo in the official examinations of the Royal Federation of Judo, which were held on 30 June.
Both pupils started this optional activity in the Official Judo School at King's College when they were in Reception class, and have worked through the years with determination and perseverance, key determinants in achieving such a coveted award.
I am sure that Alvaro's and Alejandro's successes will set an example for others to follow.
Congratulations!
-----------------------------------------------
Tenemos el placer de comunicarles que nuestros alumnos de Year 13, Alejandro E y Álvaro D, han obtenido el Cinturón Negro de Judo en los exámenes oficiales de la Real Federación de Judo que se han celebrado el pasado 30 de Junio.
Ambos se iniciaron en esta actividad opcional en la Escuela Oficial de Judo de King's College desde pequeños, cuando estaban en el curso de Reception, y desde entonces han trabajado duro y con perseverancia, lo que ha sido la clave del éxito que supone la obtención de tan preciado galardón.
Seguro que Alejandro y Álvaro serán ejemplo a seguir para el resto de alumnos del colegio.
¡Enhorabuena!