News Service | Filtered by Secondary News
News Feed
Grease Lightning!
This year the school has really outdone itself in producing such an entertaining and polished musical in "Grease". I think I speak in the name of the entire cast when I say I am proud of the show we put on for those three nights, and such fun ones for both cast members and people in the audience alike. This opportunity enabled me to grow not only as a musician and actress, but also as a person, working and bonding with incredibly talented people I otherwise would not have had the pleasure to meet.
It was a lot of vigorous work throughout several months; auditions, lunchtimes, after school rehearsals and Saturdays even, but always a fun experience and never like an obligation, more so like something enjoyable, to a get rest from all my other duties and stress.
We were lucky to be under the tutelage of such remarkable and diligent teachers too; Ms Garrison, Mr Blake, Ms Raz and Mr Lord who walked us through their vision and helped us in flourishing. Their dedication and support was made apparent in the end result, with a show none of us could have ever imagined, exceeding all our expectations.
I am eager to see what next year holds with "We Will Rock You". I expect to see many familiar faces returning for more, and hopefully new people to contribute to the talent we have already seen and maybe even outdo ourselves. It is an experience I wholeheartedly would recommend without a doubt in my mind. One that I will remember for years to come.
Alejandra - Year 12
Helping Mozambique
A cyclone hit the country of Mozambique almost a month ago, with more than 180 people found dead and thousands left without a home. Due to this disaster, the Charity Committee at Kings College dedicated two weeks before the Easter break to raise awareness and money for those in need in Mozambique. Collaborating with a young girl named Sarah Oguntomilade, the Head Student of the American International School of Mozambique, she explained to us the result of this abominable event. In addition, she told us about two main organisations stationed in Mozambique that were raising money for clothes and kits for girls. With all this information, we decided to arrange bake sales, Easter egg hunts, and informative stands, all benefiting the Mozambique project. Thanks to all those who participated, we were able to raise 2005,54 euros for the children and families in Mozambique. Every contribution always helps. We feel blessed to have helped out and will continue to find projects such as this one to help others.
Emma – Year 13
Music School Festival
The annual Music School Festival has returned in record numbers this academic year, representing a brilliant performing opportunity for all students in the Music School to showcase their talents. Performers of flute, alto saxophone, clarinet, piano, violin, classical guitar, electric guitar, drum kit and voice have all taken to the stage to wow their audiences, exhibiting a wide range of repertoire, from the Baroque Era to the present day. Many of these students will also be sitting external music examinations during the Summer Term, and we wish them the very best of luck!
The Study Overseas Fair 2019
On Tuesday, 2nd of April, we were lucky to attend the international university fair hosted in our auditorium. It was an enriching experience and we all found it really helpful. The representatives of many prestigious universities engaged thoroughly with all students, providing insight and detail about student life and new career opportunities.There were eleven universities, all of which had a really wide range of courses: from business to arts to computer sciences. Not only that but they also came from so many different countries, including the UK, Spain, the USA, Scandinavia, and Western Europe that it was almost impossible not to find the perfect match for students.
Alicia H - Year 12
Alicia S - Year 12
Our Judo Champion
Madrid Judo Championship (Zone 2) on Saturday 23rd March in Arganda del Rey:
Federico won his first three matches and went through to the final, ceding only the last fight and winning the silver medal - a fantastic result that directly qualifies him for the Autonomous Championship on 6th April and in which we are enormously proud to be able to represent King's College in such an important competition. Well done Federico, we all supporting you!
Roberto Hernandez
Judo Teacher (Optional Classes)
Relate
Relate... "feel sympathy for or identify with". This is the definition of the word ´relate´ and our aim inside the school. We try to build a more tolerant, inclusive and open-minded atmosphere by the education of all through activities and posters we hang up around the school. Every other week we also organise a discussion open to anyone in the school, with the purpose of raising awareness about topics that we think might concern all of us. A few weeks ago all over Europe, there was a movement called "Friday for Future" which protested against the damage we are causing to the world's environment. In response to this, we decided to stress our concern through a ´Relate´ discussion about climate change, where we answered and gave our opinion to certain questions on the week's topic. Relate discussions are very enjoyable talks as everyone is free to express what they think, share opinions and try to understand why we all think differently. Being in Relate I have achieved skills such as public speaking, presentation skills, the ability to listen to others, understanding and respecting everyone's opinion. I am very proud to be in Relate and hope to see more people getting involved as it is a very enriching experience which educates us in a fun way about issues that affect all of us.
Jose - Year 12
Athens 2019
There is no place like Athens that has such a long history and influence on our world, and that is why I chose to go to Greece with school. The moment the plane flew over the bright blue ocean preparing to land on the land of Gods, I was really excited and could not wait to explore this beautiful country.
We visited many places, however, 4 days were not enough to enjoy all the attractions. On the first day, we went to the National Archaeological Museum of Athens where most of the important sculptures are kept, and I think it is was a great introduction to this country and the upcoming big days.
The second day was one of the most important days because we went on a cruise trip to three important Greek islands, Hydra, Poros, and Aegina, the first capital city of Greece. We woke up early in the morning to get the cruise at 7 am, which is a bit too early for travellers like us, but it was worth it! Due to the fact that the cruise trip was a day trip, we spent most of the time on the cruise which I didn't find boring at all as we always had something to do with our friends on the way travelling from island to island on the blue sea. Each island was unique which I found really interesting, the people, the culture and especially the architecture were fascinating. At the end of the day, we had dinner at the local restaurant and had a chance to listen to Greek music, performed by local artists and, also got to watch a traditional Greek dance. Additionally, we got a chance to join in the dance and it was a really enjoyable experience.
The third day was more educational than the 2 previous days. We went to the Acropolis where the Opera Halls, Temples and Parthenon are. This was the day that we were able to learn about the history of Greece from an experienced tour guide. We started with a brief explanation about the Acropolis at the museum, before going to the actual site. I was really grateful and happy to have seen these World Heritage Sites at least once in my life. Furthermore, in the evening we had a chance to attend a Greek food workshop which was delicious. We learned how to cook different kinds of traditional food, especially how to cook the food we had been eating for the past two days. Lastly, the Greek dance workshop was one of the most memorable moments for me whilst on this trip as it was the last day of the trip, but we still had lots of fun learning about Greek traditional dance and at the same time have a lot of fun with our friends and teachers.
For me this trip was phenomenal, it was a great chance for me to enjoy myself with my friends and to also make new friends. Travelling abroad in a group taught me to be independent, punctual, and responsible. This trip gave me more than just exploring and seeing another part of the world but also to learn and experience a lot of new knowledge, "Greece was great!".
Ponpipat - Year 12
Youth Mental Health First Aid Course
Mental Health is key for our well being, I've learned how it is all connected to what we think and how we feel. I believe this course has highlighted topics that not many of us know about and should be educated on. We generally do not know enough information about mental health problems and so we tend to create stigmas due to myths and misconceptions which are false. Understanding treatments and symptoms of mental illnesses can help us promote awareness and encourage young people to speak up. Throughout the course we spoke about mental health conditions, the distinction between diagnosed and undiagnosed illnesses, stress/pressure and how to call out for help or support other people. I now consider that knowing how to respond is very important as it will make a difference, sometimes the assistance of family or friends is just as effective as professional help and knowing how to deal with stress or problems such as depression or anxiety can make things easier.
Mental health affects everyone and I strongly believe that being educated on such themes can make us change the way we see people.
Regina - Year 12K
Further Maths Brainstorming Workshop
The Further Maths Brainstorm Workshop is a student lead workshop, where Y12s and Y13s work side by side to tackle challenging further maths questions. Students try to solve problems in an interactive manner, promoting an ideal learning environment for students to improve their teaching skills and exam technique.
Tomas, Head Boy
Grease The Musical Coming Very Soon...
Don´t miss our production of Grease The Musical on Monday 8th, Tuesday 9th and Wednesday 10th April, in the school auditorium. All are welcome! Don´t miss out on an evening of great family fun, and support our students from Year 7 through to Year 13.
Wella, wella, wella, huh
tell me more, tell me more...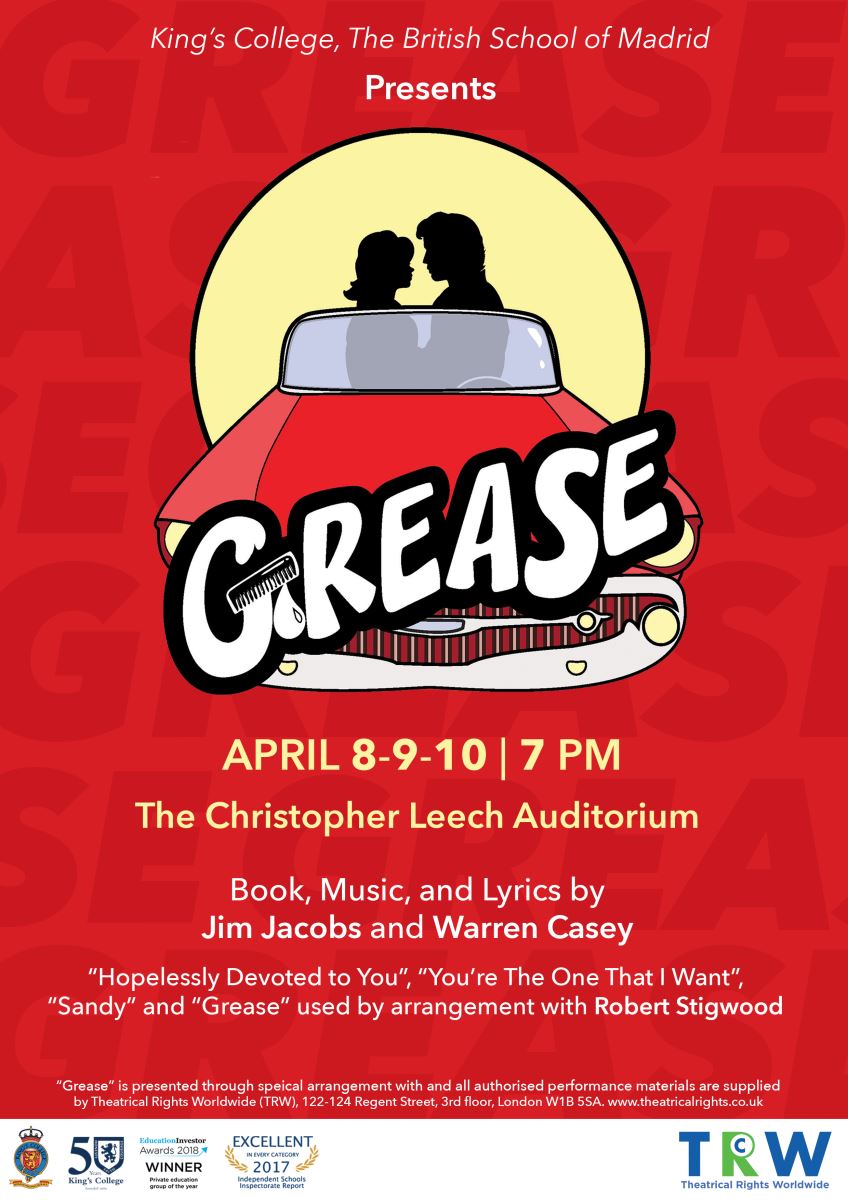 Intensive Revision Workshops for Year 11
During Enrichment Week, Year 11 students participated in intensive revision workshops for the core subjects and also enjoyed a range of activities designed to develop life skills and instill wellbeing during this potentially stressful time in their academic careers.
Biology, Chemistry, English language, English literature, Mathematics, and Physics teachers were impressed by the students' energetic and dedicated approach to exploring these core subjects more deeply through practical activities designed to practise key skills and resolve students' individual doubts about the trickiest topics. In English language, students dissected a challenging extract from "Crime And Punishment" and also analysed texts about Brexit using close reading techniques. At the three hour workshop on English literature, the groups were confronted by previously unseen poems and worked together to apply their knowledge and understanding of relevant literary terminology, producing useful revision resources, as pictured below. Miss Dowlen (Head of Year 11) also held morning sessions each day to recap key study skills including visualisation, making effective flash cards, and time management.
More excitingly, there were opportunities to help design and create the set for this term's musical theatre production, "Grease", a very relaxing morning of outdoor learning, and an invigorating hike around the lake at Rascafría, all providing a welcome change of scene - literally - from the classroom.
Here is the work produced in the poetry revision workshop:
Student Council Meeting
The class representatives of Key Stage 3 (Years 7 to 9) have attended a meeting alongside the year 12 Prefects assigned to their class. In this meeting they have spoke out on any issues their class may have in school as well as suggesting excellent new ideas to improve the school. The students discussed their preferences in the canteen, their views on uniform policies and all their thoughts were noted by the Senior Prefects. the Head Students and the Heads of the School Council, in Year 13. Student voice and democratic action are important concepts at King´s College and we are excited about developing this even further next year.
Ana, Year 12
Alumni News
My name is Ana Sanz Peña, and I am currently studying second year Medicine at University College London (UCL). I first joined King's College Madrid in 2002 (Year 4), and graduated with the class of 2012. During my time at King's, I took Maths, Biology, Physics, French, Economics and Spanish A Levels, but had to go back a couple of years ago to also take Chemistry as an A Level, as it is compulsory to be able to study Medicine in the UK. There were many things that made my time at King's an incredible experience, including the excellent teaching and outstanding facilities, but what I loved the most were the friends that I made during my time there. We are all still in touch and meeting on a regular basis, which will hopefully continue in the foreseeable future.
Right after King's I took a gap year, where I went to work as a Teaching Assistant at the British School of Beijing. Living in China for a year was an extraordinary experience, and having a break from studying before starting my degree was a well-deserved break that gave me the energy to start university refreshed. I then went on to study Natural Sciences at UCL, majoring in Neuroscience & Psychology with Medical Physics. I have always loved science and I definitely enjoyed my degree, but through internships and work experiences I realised that working in a lab was not for me. This led me to apply to Medicine, as working with patients really did fulfil me. I must admit that studying a second degree is a huge commitment and requires an enormous amount of effort (especially Medicine!), but I really am enjoying the content, and cannot wait to enter my clinical years.
In the future, I would like to become a surgeon and specialise in either Neurology or Cardiothoracics, although there are many years ahead of me before I can. Once I do, I am hoping to move to Australia or the United States, and maybe even work with Doctors Without Borders for a couple of years. All in all, if I could give any advice to King's students it would be to choose your A Levels wisely, making sure they are adequate to fulfil the requirements of the degrees you like, but also interesting enough for you to enjoy them. Make sure you work, work, and work some more, as achieving high grades in your GCSEs and especially in your A Levels will give you the freedom to study what you want where you want, and believe me, there is nothing better than pursuing your dreams!
EducationUSA comes to the British School of Madrid
On Friday 8th of March, we hosted our first ever visit from a representative of EducationUSA, the federal agency that provides official advice to residents in Spain interested in applying to university in the USA.
Academic Advisor Nanor Demirjian gave a lively presentation that was well attended by students from Years 10, 11 and 12, and she was ably assisted by Y13's Carlos C, who shared his own experience of applying to some of America's great universities. Nanor proved a lively speaker who established an instant rapport with the pupils and who answered questions expertly, honestly and encouragingly. Nanor was equally impressed by her audience's intelligence and charm.
EducationUSA has offices in Madrid, and has been kindly supporting King's pupils and parents with great advice for years.
Churros and Porras Charity Sale
The Charity Committee created a "Churros Day" to bring back the winter atmosphere to the school by selling Churros and Porras, Spanish traditional fried-dough, in order to raise money for the charity organisations the committee are working with. This event was a great opportunity for the committee and other King's pupils to give a hand in terms of helping while simply enjoying the eating of tasty churros. With support from the King's pupils and Charity members, we were able to raise a huge amount of money. With this money we are able to spread our help successfully. We hope this event will happen again to gather everyone in school as one, with everyone we could make life better for others.
Ponpipat - Year 12
Trips Week - Tenerife
18 Students went to Tenerife for 5 days with Mrs Requena and Mr Urizarbarrena during Trips Week 2019.
The first day we went to Lagos Martianez which are pools but filled with seawater. We were in the Atlantic Ocean, so the water was freezing! After that, we went to the beach and took photos. Later we walked around town and bought a few souvenirs. At night we had dinner and the food was really good and the people were very nice. On Tuesday we had to wake up really early because we had to take a bus to the South of Tenerife. We then took a boat to Acantilados de Los Gigantes and we saw whales and dolphins. It was awesome! On Wednesday we went to Loro Park and it was really fun because there were many shows and animals. On Thursday we took a bus to El Teide and when we got there, we took a teleferico (cableway) which took us almost to the top. Then we had to trek about a kilometre and a half, but when we stopped, there were some spectacular views to appreciate, so it was well worth it. Lastly, on Friday, we walked around the town again to buy souvenirs and do last minute shopping.
We all spent an amazing time in Tenerife. We swam in the pool or at the beach every day. The sunny weather was most agreeable!
Miguel, Federico and Javier, Year 8
Around the World in 80 Days
The whole of Year 7 went to the theatre to watch Around the World in 80 Days.
Mr Fogg made a bet that he would get 20 thousand pounds if he can travel around the world in 80 days. He took his servant Passepartout with him and he actually made it in 80 days. It was not easy though! On his way he met the policeman, Mr Fix. Mr Fix thought he was a thief, so he tried a lot of ways to stop them travelling and tried to catch them. Mr Fogg first visited Switzerland; then he went to Mumbai; after Mumbai he went to Calcutta and he saved a lady, called Aouda, there. He then went to Hong Kong; then travelled onto Shanghai because he missed the boat from Hong Kong to Yokohama. After Yokohama he went to San Francisco; then to New York by train; and finally back to London. In London he was caught by Mr Fix and he thought he had run out of time. When Passepartout checked the time they found out that they were actually not late, becuase they had become confused by the different time zones of different places and therefore missed the counting of one day! At the end of the story Mr Fogg won the money and married Aouda.
Everyone in Year 7 really enjoyed the visit to the theatre and very much look forward to the next performance we will get to go and see.
Jin - Year 7
Mentoring at King´s
The mentoring programme at King´s Soto is popular and successful. A large number of Sixth Form students sign-up to be mentors and to assist in the programme every year. We asked Norberto in Year 12 about his expereince of mentoring after observing one of the sessions he was leading at a lunch time.
There are two ways that students benefit from mentoring: as a mentee or as a mentor. As a mentee, you can receive extra support on topics you may struggle with on your respective subjects. Or if you feel comfortable with the work being achieved in lessons perhaps you can take the challenge and push yourself by extending your knowledge, and aiding youself in achieving the best grades that you are capable of by being a mentor. As a mentor, it is not only about helping your mentee, actually, you are benefiting yourself just as much as they are. The chance of teaching other students will reinforce your knowledge of the subject at hand as you will have to clearly organize your ideas before explaining them to others, and will help you learn and remember whole topics in the best way.
Norberto, Year 12
Judo Black Belts
We are pleased to announce that two of our Year 13 pupils, Alejandro E y Àlvaro D, have obtained the Black Belt in Judo in the official examinations of the Royal Federation of Judo, which were held on 30 June.
Both pupils started this optional activity in the Official Judo School at King's College when they were in Reception class, and have worked through the years with determination and perseverance, key determinants in achieving such a coveted award.
I am sure that Alvaro's and Alejandro's successes will set an example for others to follow.
Congratulations!
-----------------------------------------------
Tenemos el placer de comunicarles que nuestros alumnos de Year 13, Alejandro E y Álvaro D, han obtenido el Cinturón Negro de Judo en los exámenes oficiales de la Real Federación de Judo que se han celebrado el pasado 30 de Junio.
Ambos se iniciaron en esta actividad opcional en la Escuela Oficial de Judo de King's College desde pequeños, cuando estaban en el curso de Reception, y desde entonces han trabajado duro y con perseverancia, lo que ha sido la clave del éxito que supone la obtención de tan preciado galardón.
Seguro que Alejandro y Álvaro serán ejemplo a seguir para el resto de alumnos del colegio.
¡Enhorabuena!